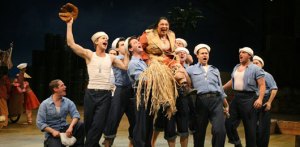 Call me a cockeyed pessimist. While everyone else in the audience at Lincoln Center's loving revival of Rodgers and Hammerstein's 1949 South Pacific seemed to be in heaven, I thought I was in a retirement home.
Now, now … before I'm drummed out of town, let me say that the score is an unequalled romantic gem. But you know that. The genius of Richard Rodgers resides, of course, in his enduring, wonderful melodies; Oscar Hammerstein's in his unpretentious simplicity and humaneness (marred, for some, by a heavy dose of formulaic sentiment). For a certain generation to recall the titles of just a few of the songs from South Pacific—let alone the score of the superior Carousel, or the unsinkable The Sound of Music and The King and I—is to start singing them.
"Some Enchanted Evening," "A Cockeyed Optimist," "There Is Nothin' Like a Dame," "Younger than Springtime," "This Nearly Was Mine" … Rodgers and Hammerstein's lush, extraordinary score for South Pacific, and its story of love set on a Polynesian island during the Pacific war, belongs to the era of my parents and grandparents.
It's one of the signature 50's shows—along with Gypsy, Porgy & Bess and that perfect musical comedy, Guys and Dolls—that defines the golden age of U.S. musicals. South Pacific ran for 1,925 performances, winning a Pulitzer Prize and nine Tony awards—a massive hit that in turn broke with tradition with its potentially explosive theme of racism.
Are it's celebrated themes of war and race still relevant today? (Let's leave romance out of this). After all, West Side Story's innovatory portrait of gang warfare and Puerto Rican life in New York tenements is arguably dated in the era of In the Heights, and Brecht's 1920's preachy, idealistic socialism in The Threepenny Opera is nowadays "unfashionable."
When South Pacific opened on Broadway, the connection with its audience was palpable. It spoke directly to an America that had been to war and suffered immeasurably. As Laurence Maslon writes in the informative Lincoln Center Theater Review, "That such monumental events, freighted with death and destiny, should constitute the background for a Broadway musical seems almost absurd. But South Pacific made no apologies for and few concessions to its context in human history."
In today's context, those "few concessions" look like a few too many. This is a musical ostensibly concerned with the reality of war and racial prejudice that manages to send audiences home happy. When the show's irresistibly perky heroine from Little Rock, Ark., nurse Nellie Forbush, confidently announces that she's as "normal as blueberry pie," it's both a call to America to celebrate a return to normalcy after an exhausting war, and a self-satisfied declaration of ordinariness.
"I'm as trite and as gay/ As a daisy in May"—well, the girl's fallen madly in love on an enchanted evening! She's as "corny as Kansas in August/ high as a flag on the Fourth of July!" And she's a smug "little hick" who's "a cockeyed optimist." Nellie Forbush—what a name!—describes herself happily as a feisty "dope" stuck with "a thing called hope," and at the soft, comforting center of South Pacific is the complacent personification of a 1950's America where to be nice and normal is to be acceptable. Who or what is "normal"? Nellie Forbush! She's meant to make you feel good about yourself—as well as things like patriotism, world wars and racism.
The revival—the first on Broadway since its premiere—has received a sometimes earnest, measured and excellent new staging at the Vivian Beaumont, with Kelli O'Hara making a fresh and wonderful contribution as Nellie, and the rising opera star Paulo Szot as a convincing if slightly wooden Emile. Directed by Bartlett Sher, the cast of 40 and the 30-strong orchestra (Thirty! And not a synthesizer in sight) are themselves nostalgic reminders of another age.