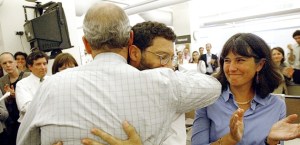 The New York Times' Barry Bearak, who was detained yesterday in Zimbabwe, is still in jail. Catherine Mathis, spokeswoman for the paper, said that he has been "falsely" charged. She writes: "He has not been released. He's being charged, and falsely so, with passing himself off as an accredited journalist."
This was a statement sent out yesterday by the paper's editor, Bill Keller:
Barry Bearak, a Times correspondent based in Johannesburg, was taken into custody today by police in Harare, Zimbabwe, where he was covering the elections. He was apparently one of a number of Americans and other foreign nationals rounded up today. An American consular official who visited him at the central police station reported that he was being held for 'violation of the journalism laws.'
We are making every effort to assure that he is well treated, and to secure his prompt release. Barry is an experienced and respected professional who has reported from many places. He won a Pulitzer prize in 2002 for his deeply affecting coverage of daily life in war-torn Afghanistan.