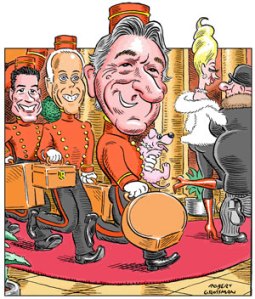 Celebrity hotelier Robert De Niro's hugely anticipated and high-priced lodge, the 88-room Greenwich Hotel, officially opens for business today in Tribeca.
And talk about excellence in hospitality!
A Curbed tipster reports from the scene:
there are three staffers outside the hotel, guarding against photographs. OF THE EXTERIOR. I managed to get a few shots, and one through the glass of the lobby, before a nice Asian lady nearly popped a blood vessel and grabbed at my camera. Bobby D, you've done it again, sir.