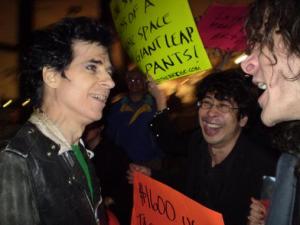 "This is a venue with a lot of history," said Tom Morello, the Harlem-born guitarist for political rock-rap group Rage Against The Machine, standing onstage at 315 Bowery early Friday morning. He was referring to CBGB, the legendary rock club that used to occupy that address.
"We can take it higher than its ever been before," said Mr. Morello, who was joined onstage by a number of big-name musicians, including Jerry Cantrell, Perry Farrell and an openly smoking-ban-flouting Slash, in celebrating the grand reopening of the hallowed music hall. Concerts like these will happen only occassionally now, however, as the venue has become a high-end rock-themed clothing boutique.
"We're gonna jump the fuck up and down," Mr. Morello told the packed crowd, many of whom had shelled out $75 per ticket to attend the charity concert, which also included performances by Ronnie Spector, Ian Hunter and Joan Jett. "I wanna see everybody jump," he said, including "the guy selling $300 T-shirts."
That guy was John Varvatos, the fashion designer who now operates the former CBGB space. Even though most of Mr. Varvatos's merchandise had been removed for the party, the high prices were readily apparent to anyone who attended.
Outside, a band of protesters waved placards bearing such slogans as "DOWN WITH $800 PANTS" and "OH, LUXURY: UP YOURS." (Read an explanation of their reasons here.)
Around 11 p.m., one of the concertgoers got into a nasty shouting match with the demonstrators.
"Listen, it was gonna be this guy or a fucking Starbucks," argued the spiked-hair concertgoer, sporting a vintage leather jacket. (Actually, Mr. Varvatos has said that the wanted to prevent the venue from becoming a bank.)
"Can you afford to shop in his fucking store?" shouted a protester, who earlier opined that "the Bowery is for homeless."
"No, and I don't care," he said, adding, "How's this for punk?" Then he hocked a loogie on her poster.