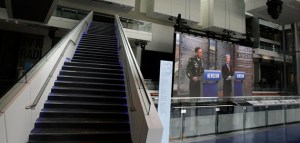 Who says The Newseum, Washington D.C.'s interactive showcase for journalism and home to Ana Marie Cox's slippers (seriously) can't draw a crowd? According to a Washington-based correspondent, "there's a line along Pennsylvania Avenue "three New York blocks long. It's sick."
Earlier this month, Politico's Michael Calderone wondered, "But with journalism being about ideas, not artifacts, how does the Newseum justify a $20 admission fee to inform visitors about the news — especially when most Washington museums charge nothing?"
Then again, according to a note appended to Jack Shafer's February call for a boycott of the opening on Slate, the $20 admission fee is being waived today.