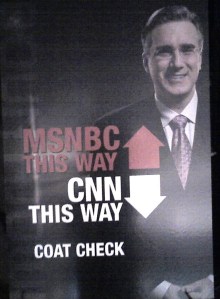 Last night, NBC threw a party to celebrate the fifth anniversary of Countdown with Keith Olbermann. Network bigwigs, including Jeff Zucker and Phil Griffin, turned out to toast their top cable-news anchor, who at one point during the night posed for pictures wearing a sparkling tiara.
The party was thrown at the Landmarc restaurant at the Time Warner Center.
That would be the same Time Warner Center that is home to CNN–i.e. MSNBC's rival in the ongoing battle for second place in the cable news wars. In case anyone missed the not-so-subtle we're-taking-over-your-territory jab, the NBC crew decorated the environs with various placards taking potshots at their rivals.
On one, Mr. Olbermann's face beamed over the words "MSNBC this way" with an arrow pointing up and "CNN this way," with an arrow pointing down (vaguely in the direction of a coat check).
Zing!
MSNBC spokesperson Jeremy Gaines told the Media Mob that the MSNBC promotions could have been much more pervasive. According to Mr. Gaines, NBC tried to buy up a substantial amount of the advertising space in the Time Warner Center-electronic billboards, kiosks, etc–for the entire day. But, according to Mr. Gaines, The Related Companies (which controls the advertising space at the development) eventually balked at the ads poking fun of CNN–i.e. their major tenant in the building.
"You can't blame us for trying," said Mr. Gaines. "We picked the venue on purpose and wanted to have as much fun with it as possible."