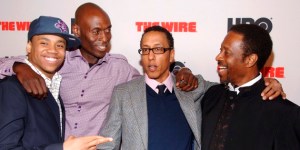 On Saturday night at Tribeca Film Festival's premiere of Tennessee, we caught up with the righteous and stern Lieutenant Daniels from The Wire, also known as Lance Reddick.
"The funny thing for me about life after The Wire is that I've worked more since The Wire than I did the whole time I was on the show," the tall and slender actor, who plays Mariah Carey's abusive husband in the film, told The Observer. "I started taping for Lost literally a week after we wrapped on The Wire. Then I shot an independent film with Cuba Gooding Jr. called The Way of War—it's kind of Syriana meets Bourne Identity. I also just finished shooting a pilot of a new J.J. Abrams series called Fringe, and I'll continue my recurring role on Lost." That's all?
But Mr. Reddick will not forget the role that gave way to his newly busy schedule.
"I hung out with this lieutenant and he said two things that made a huge difference," he said about preparing for The Wire. "He said it's like being a parent and you've got to think of all these guys as your kids. Sometimes you have to discipline your people, and sometimes you have to have compassion and look the other way."
"But he also told me this story about a dirty cop—and he said I hate dirty cops—whose house he raided and this [dirty cop] reached for this guy's gun and he said 'please do it because I would love nothing more than to blow you away motherfucka!' And I thought, oh, for all the humanity, at the end of the day you're a warrior and you never forget that."
Warrior on Lieutenant Daniels!