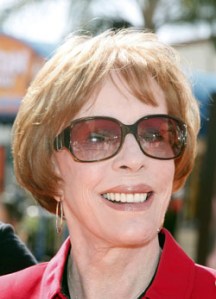 If billionaires replace all the comedians in Manhattan, will laughter die? Or will the rich just sit around guffawing simply because they're rich?
At the Central Park West glass monolith Trump International, Carol Burnett, who turns 75 this week, sold her apartment this month for $5.58 million, city records show. It's a two-bedroom, 1,945-square-foot sprawl, according to the listing, with crown moldings, custom closets, "contemporary furnishings" and a sweet sound system, too.
As it turns out, Ms. Burnett, whose glorious old CBS sketch show won 22 Emmys, isn't a stranger to high-end real estate. Forbes reported in 2001 that she was trying to sell her one-story, seven-bedroom house in Montecito, Calif., for $36 million, although years later a Times profile said she still lived there, keeping a Manhattan apartment as well.
As Ms. Burnett leaves the condo tower, an Asian real estate titan moves in. Twenty-four floors up, a six-bedroom, 6,360-square-foot apartment sold, according to city records, for a tad over $26 million.
The buyer is the Japanese real estate mogul Katsumi Tada. "The people are the wealthiest people in the world in my buildings, far wealthier than you have in most co-ops," Mr. Trump told The Observer last month. What about in the Central Park West condo? "We have everybody living over there, you have Mel Karmazin," he said. "We have Jack Welch." (Actually, Mr. Welch moved out, but there are still billionaires like Mark Cuban and Robert Wood Johnson IV, two sports team owners.)
Mr. Tada is worth a reported $1.8 billion, but he may have a lot more soon. Morgan Stanley, Lehman Brothers and Goldman Sachs have all reportedly bid for a stake in his Daito Trust Construction Co. The value of a buyout deal could be around $10 billion, but that doesn't mean the mogul will be able to buy a Burnett sense of humor. "Mr. Tada's hobby is an ordinary one," a spokesman once said, explaining his boss' preference for golf over art, "because he is just an ordinary man."