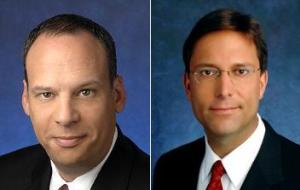 This morning, the New York Daily News reported that WCBS Channel 2 has laid off two senior correspondents-investigative reporter Scott Weinberger and Andrew Kirtzman, a former political reporter for New York 1–amid a broader round of cutbacks.
"Weinberger and Kirtzman are the only familiar faces involved in the layoffs, although behind-the-scenes staffers and freelancers were also cut, sources told the Daily News," reported Richard Huff. "The exact number of people leaving was unclear."
Elsewhere, at TV Newser, Chris Ariens is reporting that "corporate-wide CBS job cuts have made their way to West 57th St."
"In addition to the cuts, some jobs are being added, some open positions are not being filled, while other jobs are being 'redefined,'" Mr. Ariens reports. "Insiders say the cuts amount to 'just over 1%' of the CBS News staff. CBS Corp. reported a 14.6% decline in fourth-quarter earnings. The share price is down 19% so far this year."