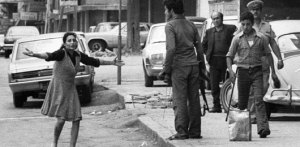 THE HAKAWATI
By Rabih Alameddine
Alfred A. Knopf, 513 pages, $25.95
The Hakawati, Lebanese-American author Rabih Alameddine's third novel, is a late entry to a field that includes movies like Pan's Labyrinth and novels like The Tin Drum—stories that process situations of extreme sadness and moral complexity through the viewpoint of a child. It's a device with great potential for showing up the childish side of adult politics, and—always the set piece of this genre—how everyday life continues in spite of it all.
Like most late entries, The Hakawati feels like a rush job. It's a sprawling jumble of a novel, told primarily from the viewpoint of a Lebanese emigrant to Los Angeles named Osama. "Hakawati" is Lebanese Arabic for "storyteller," a title that suggests the novel's ambition and scope. And The Hakawati possesses all the trappings of a Big Important Novel: The setting is transhistorical, flashing forward and back between modern Beirut and a confabulated fairy-tale past derived from A Thousand and One Nights, the Bible, the Iliad and every other grail-text you can think of; and its large cast of characters and rapidly shifting scenes give it the confused momentum of picaresque.
Unfortunately, Mr. Alameddine's powers as a writer don't measure up to his sources (surprise!) or to the novel's considerable length. Which is a shame, because tucked inside this mess of a book are several perfectly serviceable short stories or novellas. In fact, when I first began reading The Hakawati, I was relieved by the forthright simplicity of the narrator, the companionable tone with which Osama traces the lines of deceit and desire that connect his family history to the notoriously tangled sectarian politics of 20th-century Lebanon. But after several hundred pages of clipped, metronomic prose, and the failure of the many, many tales appearing in these pages to add up to anything more than a procession of stories of positively medieval flatness, I decided to take a break and look into some of Mr. Alameddine's earlier works.
What I found there explained much. Koolaids: The Art of War (1998) is a modest book composed not in chapters but fragments, centered around a laconic first-person narrator. Another, I, the Divine: A Novel in First Chapters (2001), made up, as the title indicates, of first chapters only, is written in a similar spirit of willful non sequitur.
Rabih Alameddine, it appears, is by nature a writer inclined toward unconventional forms and wry humor. The Hakawati, on the other hand, is a disorganized yet lavishly blurbed mass stitched together with deadly platitudes about the magic and mystery of storytelling. ("Listen," goes the book's opening, "Allow me to be your god. Let me take you on a journey beyond imagining. Let me tell you a story." Ech.)
So who rammed this genuinely interesting and unusual author into the blandly unsuitable niche of Big Important Novelist? Only his publisher knows for sure.
Damian Da Costa is on the staff of The Observer. He can be reached at ddacosta@observer.com.