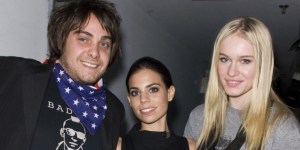 Izzy Gold, who is a Renaissance man by the definitions of contemporary young Manhattan society (T-shirt designer, D.J., and dear friend to Ally Hilfiger) has added another feather to his cap: Izzy Gold Records.
The fledgling record label is working with three tentpole artists who will be familiar to the types of people who are familiar with the rest of Mr. Gold's social oeuvre.
One is the 17-year-old protosocialite and All My Children actress, Leven Rambin. The second is party-chronicler Patrick McMullan's son, Liam McMullan. The third is Mr. Gold himself.
"The track with Liam is really dancy; whenever I play it when I D.J.at GoldBar, people really start to shake themselves," Mr. Gold said. Whereas: "Leven's doing something similar to what Fergie did, so we've got her singing and there are some rappers on the track. "
And his own ditties? "My music is kind of like a cross between old rock-and-roll and hip hop from the 90's. It has the feel of Notorious B.I.G.'s 'Life After Death' album, but it's also kind of Kid Rock-esque."
The president and producer of Izzy Gold Records is Chris Young, who has worked with Ashlee Simpson, George Clinton and The Raveonettes and whom Mr. Gold calls a "digital Amadeus."
"We'll release the tracks after we finish dealing with distribution," Mr. Gold said. "Most likely we'll put out an Izzy Gold Records compilation first that will have the tracks we've done so far with everybody, and then as we write more music we're hoping that every artist can have their own album. We've also been in talks to get Leven and myself signed to the majors, and when we do more stuff with Leven, we'll hopefully get her signed with one of the labels that we're currently talking to," said Mr. Gold.
Aside from Mr. Gold himself occasionally spinning the tracks at GoldBar, they are not yet available anywhere else and there are no live performances scheduled for Mr. Gold or his artists.
"I'm kind of the only person who has it at this point," Mr. Gold told the Daily Transom.