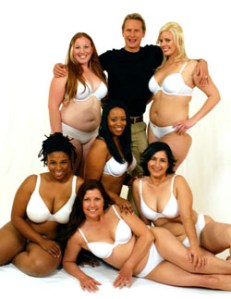 When Lifetime announced in early April that it had managed to yank Project Runway, for $150 million, from its longtime home on Bravo, the only people who seemed happy about the deal were Harvey Weinstein, Project Runway's producer, whose production company will now get paid $1 million per episode instead of the $600,000 he was making at Bravo; and Lifetime, which saw the deal as the potential cornerstone of a massive rebranding effort. But nearly everyone else, it seemed, was not thrilled. The network better known for showing Golden Girls reruns and made-for-TV movies that usually involved some combination of a woman being stalked, a serial killer and/or a cheating/abusive husband was, not to put too fine a point on it, simply too Middle America for Project Runway fans.
"The thing that concerns us is that they talk about the show in terms of it being a women's show," said Tom Fitzgerald, 41, one-half of the blogging team behind the popular Project Rungay blog, which obsessively chronicles every episode as well as any and all behind-the-scenes gossip. "And we're living proof that that's not entirely the case. It has a very large gay viewership. It has a very large straight viewership that likes the fact that it's an urban, intelligent, creative reality show. Our hope is that they don't forget that."
"Lifetime is about as hip as Massengill," wrote one commenter on Gothamist.
"I always knew the Lifetime channel was a homewrecking slut pretending to be a middle-aged virgin," wrote the Dlisted blog. A commenter responded, "Being on Lifetime will place PR in a context that automatically makes it not cool, trendy, or creative. Bravo is funny and gay. Lifetime is timid and stodgy. It's not a good match. How are they going to edit all the snarky comments by the contestant Queens? I hope they don't edit it to be too bland and acceptable."
And on Project Rungay, Mr. Fitzgerald and his co-blogger, Lorenzo Marquez, wrote: "We just don't know. One of the many reasons we love the show is because it was on Bravo, the most gay-friendly cable network around. While Lifetime certainly isn't UNfriendly to the gays, we can't help but fear for our baby."
Do they really have anything to fear?
In January, Lifetime launched a reality show called How to Look Good Naked, hosted by Carson Kressley, the very gay ex-cohost of the show that helped rebrand Bravo five years ago, Queer Eye for the Straight Guy. Mr. Kressley's show is an Oprah-fied version of Extreme Makeover (if Oprah were male and blond and gay), featuring rather overweight, depressed women with negative amounts of self-confidence who, thanks to Mr. Kressley's relentless cheerleading and a haircut, become the women they were meant to be.
By hiring Mr. Kressley, who was practically a Bravo mascot thanks to his Queer Eye stint, it's as if Lifetime dipped a toe into the gay waters before dunking itself all the way in; Mr. Kressley's show has been renewed for a second season. And the show has managed to find an original spin on the tired makeover genre, even if that spin involves women parading about, often in public, in their underwear and bra, and then participating in a nude photo shoot. It's almost train-wrecky, but just goofy enough that it manages to be endearing, especially since Mr. Kressley has fully embraced his new role as savior of the overweight and under-styled. Indeed, he doesn't just get his subjects a new wardrobe, but he makes them feel fabulous! From the inside! Self-help never looked so good!
"We do internal makeovers before the external makeovers," said Riaz Patel, the 34-year-old producer of Naked. "We don't even touch hair and makeup until halfway through the show! The scope and impact of the changes are tremendous. The women from cycle one have completely transformed their lives." Mr. Patel went on to say that he speaks with several of the contestants at least once a week, discussing everything from their new dating lives (which are fabulous!) to the possibility of returning for a where-are-they-now episode (very likely!). "We're not building them a new house. We're building them a new sense of self."
Indeed, perhaps the biggest difference between Mr. Kressley's makeover show and that of, say, Project Runway co-host Tim Gunn, is the giddy enthusiasm Mr. Kressley has for his endeavor. There is none of the eye-rolling of Mr. Gunn's makeover show on Bravo, Tim Gunn's Guide to Style, in which he and his co-host, Veronica Webb, make fun of their subjects and their awful wardrobes/haircuts behind their backs, even as they do make them undeniably more attractive in the end. But it's funny, ironic, hip. Comparatively, Lifetime's untrammeled earnestness—eagerness, even—comes off as distinctly uncool. And tucked within online commenters' anxieties about whether Lifetime would keep Project Runway gay was the fear that Lifetime, in its implied anti-irony stance, would, therefore, be resistant to kitsch and camp and sarcasm, and perhaps leave on the cutting-room floor the bitchy asides that the PR contestants make.
Certainly, earnestness does abound at Lifetime. There's the somewhat shmaltzy, but also somewhat addictive, prime-time soap opera Army Wives, whose convoluted plot twists, affairs and secret pregnancies make Desperate Housewives look like The Cosby Show. But the network has managed to replace its formerly interchangeable, and wholly forgettable, slate of made-for-TV movies with fare that's based on trade-fiction women's-book-group staples, like the very successful broadcast of Kim Edwards's The Memory Keeper's Daughter. Significantly, that film starred what might be Lifetime's most high-profile roster to date: Emily Watson, Dermot Mulroney and Gretchen Mol.
"I really liked the way that the programming was heading and the quality of the projects they were doing," said the actress Kelly Preston, who stars in an adaptation of a Jodi Picault novel, The Tenth Circle, this June on Lifetime. (Still, it's not as if Lifetime has completely thrown off the melodramatic mantle of the past; as Ms. Preston put it, The Tenth Circle is about "a child getting raped at a party, but also about how the mother is having an affair with one of her students.")