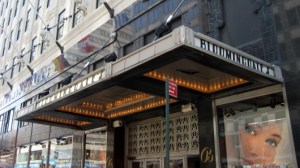 Shoppers who were hoping to pick up a Mother's Day gift at Bloomingdale's on Thursday may find picketing workers instead.
Crain's reported on Friday that the Retail, Wholesale, and Department Store Union authorized a strike action at the Bloomingdale's flagship on 59th Street to amp up the pressure on management to increase employee benefits before the union's current contract expires on April 30.
The union wants Bloomingdale's to keep the current health plan, which is managed by the union, rather than switch to an HMO and is also pushing for pay increases.
We stopped by Bloomie's over the weekend and spoke to a couple of the department store's 2,000-plus workers about the possibility of the first walkout there in 43 years. The sales people were pretty in the dark, but all said they are prepared to walk out on Thursday if an agreement is not reached.
"No one knows yet; but, don't worry, we'll let you know," said a woman working behind one of the perfume counters.
"We're striking for better benefits," she said, "Want to come support us?"
Only the flagship will be affected, because other locations are not unionized.
"We might [strike]," said another employee in the handbag section, which was packed with foreigners taking advantage of the abundant discounts in Manhattan for those paying with international currencies. "If we do, basically the entire store would be closed."