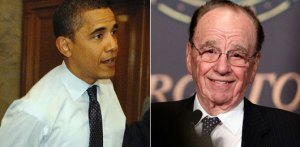 The old adage that goes "never pick a fight with someone who buys ink by the barrel" could probably be updated to "never pick a fight with Rupert Murdoch." And Barack Obama might have violated that one.
On April 21, Obama held what was supposed to be a conversation about economic policy with concerned Pennsylvania voters, seated around him on benches under a low hanging tree blooming with yellow flowers.
The first question was off message. It was about media consolidation, by Murdoch and others. "What can be done to ensure that our press is really giving a free, all-point-of-view [perspective] to the population," asked the questioner.
Obama called it a good question and then, referring to the television cameras, national and local media reporters ringing his quaint afternoon conversation, said, "I think the press would argue that there are a multiplicity of voices out there, but you're absolutely right that there has been a lot of media consolidation and that's happened partly because it's so expensive to set up big TV networks."
Then he added, "So that when a company like Clear Channel starts gobbling up all the radio stations or, uh, uh, you know, Rupert Murdoch starts having his eyes on a bunch of different media outlets, they can outbid a lot small—smaller outlets."
Since then, the New York Post, which endorsed Obama, published an unflattering editorial. Then, on April 23, The Wall Street Journal published an editorial with the headline "Obama's America: He promises higher taxes, more regulation, less trade and less opportunity."
And all of a sudden, the candidate has decided to appear on Fox News Sunday with Chris Wallace. Wallace attributed Obama's decision to a "count-up" clock that marked the days since Obama first agreed to appear as a guest.
"We started the clock a month ago at 730 days. This Sunday it will be up to 772 days. And the conversation about Obama coming on got a lot more serious after we started the countdown, or the count up," Wallace said.
As Ben also points out, this might just be a coincidence, but it seems fair to ask if there's another factor in the Obama campaign's decision. I'm waiting for them to get back to me.