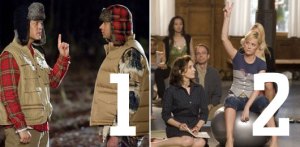 Baby Mama's (no. 2) opening weekend in Manhattan should have been the cherry to Tina Fey's box office sundae. As the former lead writer of Saturday Night Live and writer and star of 30 Rock, Ms. Fey is New York's comedic mistress. She even managed to have the movie open the Tribeca Film Festival, the film festival designed to save downtown from the economic downturn of 9/11. This was to be a celebratory weekend: Ms. Fey, welcome home! Thanks so much for being so very awesome. Instead, it was the site of a giant upset: Harold and Kumar Escape From Guantanamo Bay (no. 1) outgrossed Baby Mama, which, in a counterintuitive twist of fate, makes Baby Mama the country's favorite movie, but not the city's.
For all of the anecdotal evidence suggesting the city is overrun with babies and the women desperate to have them, it seems the stoner population still outnumbers them by a fraction. Who said the drug-fueled days of the 80's are a thing of the past? OK, this is pot and not cocaine, but just wait until the Wall Street sequel comes out!
To be fair, Harold and Kumar did have an advantage. It played at one more theater than Baby Mama. The margin of victory, a slim $6,000, was far less than the movie's strong $33,378 per screen average. Since Baby had the better average, with $36,355, it is possible with an added theater, it could have beaten Harold and Kumar. But there is no way of knowing how that added theater would have affected the average, which ultimately would have dropped due to the added showtimes. By the hammer of Thor, this is a tough town …
Deception (no. 5), an erotic thriller starring Hugh Jackman, Ewan McGregor and Michelle Williams, deceived few into seeing it. It managed an anemic $6582 average at 9 theaters and was not able to outgross last week's two top films, Forgetting Sarah Marshall (no. 3) and Forbidden Kingdom (no 4), playing at the same number of theaters. According to Manohla Dargis, it was more Sliver than Basic Instinct. Ouch!
List of theaters: Paris, Zeigfeld, Oprheum, East 85th St., 86th St. East, 84th St., Lincoln Plaza, 62nd and Broadway, Lincoln Square, Magic Johnson, 72nd St East, Cinemas 1, 2 &3rd Ave, 64th and 2nd , Imaginasian, Manhattan Twin, First and 62nd St., Angelika Film Center, Quad, IFC Center, Film Forum, Village East, Village Seven, Cinema Village, Union Square, Essex, Battery Park 11, Sunshine, 34th Street, Empire, E-Walk, Chelsea, 19th Street East, and Kips Bay.
Manhattan Weekend Box Office: How moviegoers in the multiplexes of middle America choose to spend their ten-spot is probably a big deal in Hollywood. But here in Manhattan, the hottest movies aren't always the ones making the big bucks nationwide. Using Nielsen numbers for Manhattan theaters alone and comparing them to the performance of the national weekend box office can tell you a lot about our Blue State sensibilities. Or nothing at all! Each Monday afternoon, we will bring you the results.