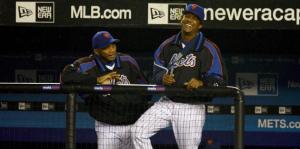 With Pedro Martinez eyeing a late-April return, the Mets would appear set to move forward with their planned five-man rotation intact. But if New York wants to make the decision best for the team now, later in the season and even for 2009, they ought to consider a wacky idea: expanding to a six-man rotation as soon as Martinez or Orlando Hernandez is healthy enough to take the mound.
While the starting rotation has been a strength thus far, much of that success has come from the young Mike Pelfrey's development, and from surprise success story Nelson Figueroa. With a traditional five-man rotation, either Pelfrey or Figueroa would need to go to an already-overstocked bullpen or the minor leagues.
Consider instead the effect a six-man rotation would have on the effectiveness of each of New York's top-four pitchers. Johan Santana, who may have struggled in September due to fatigue last season (4.94 ERA after September 1), had a 3.69 ERA with four days of rest, 2.93 ERA with five days of rest. While the six-man rotation will leave four fewer starts for Santana, the prospect of improving his performance in the estimated 22 others he will have is a strong incentive for the change.
And for the other starters, such a change, if history is to be believed, would have nothing but upside.
Take Pedro, who pitched on five days of rest upon his return last season. His numbers—23 innings, 28 strikeouts, and a 2.35 ERA—are ace-level, even though he'd be pitching out of the number-two slot. It is impossible to estimate how he'd pitch with only four days of rest—but at age 36, and increasingly brittle, the odds that he'd improve on less rest are small.
The results are no different for third starter John Maine. Last season, his ERA on four days of rest was 4.44—on five days of rest, 3.80. His career splits are even larger—4.69 on four days, 3.60 on five days. His strikeout rate goes up and his walk rate goes down with that extra day.
Meanwhile, fourth starter Oliver Perez did have a higher ERA on five days of rest than on four days. But for Perez, whose main bugaboo is control, the extra day did wonders for his location. On four days of rest, he walked 36 in 58 1/3 innings. On 5 days, he walked 40—in 99 innings. (Six-plus days of rest was even kinder to Perez, with three walks in 19 2/3 innings.) Considering also that Perez's velocity seems to improve with extra rest, and that his career ERA on four days of rest is 4.87, but on five days of rest is 4.00, and it's at least arguable that even he could benefit from such a move.
Even the fifth and sixth starters in this arrangement, Pelfrey and Figueroa, have excelled with more time off. Though his total innings pitched make such numbers suspect, Pelfrey's career ERA with four days of rest is 8.59; on five days that number drops to 3.42. And his seven shutout innings against Washington, the best start of his career, came on five days of rest. As for Nelson Figueroa, both of his first two masterful starts in 2008 came on five days of rest; his career ERA on four days of rest is 5.19, and on five days of rest, 4.02.
In total, the six would-be Mets starters have put up a 4.26 ERA and 7.94 strikeouts per nine innings on four days' rest in 310 2/3 innings since the start of the 2007 season. On five days' rest, the totals are a 3.31 ERA, and 9.26 strikeouts per nine innings in 358 2/3 innings.
There are two additional benefits to the six-man arrangement. The three pitchers who pitched full 2007s, Maine, Perez and Santana, all had higher ERAs in the second half than the first half—in Maine's case, the ERA more than doubled. For a team with October aspirations, keeping all three pitchers fresh could make a critical difference in a September pennant race, not to mention the grind of several October series.
The Mets also face an offseason of decisions after the 2008 campaign. Both Pedro Martinez and Oliver Perez will be free agents. The Mets will likely need to spend heavily to keep Martinez, and especially Perez, who will be entering his age-27 season. With holes in left field and first base, it will be hard for New York to spend free agent money to fix it all.
But a full season in the rotation could answer whether or not Mike Pelfrey is ready to assume a primary role in New York's rotation, as well as whether Nelson Figueroa, whose success is reinforced by his strikeout rate, can give the Mets a Rick Reed-style mid-30s renaissance. If either or both are ready, it gives the Mets options should they decide Martinez's usefulness is compromised by his health, or that breaking the bank for Oliver Perez is not a good idea.
And should either Figueroa or Pelfrey falter, Orlando Hernandez might be ready to return. Worst comes to worst, the Mets can return to the five-man setup. But before settling, New York should consider this as a possible way to optimize the rotation, for now, for October and for the future of the franchise.