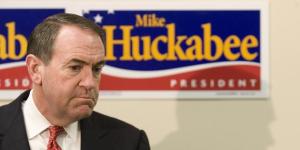 The inscrutable Mike Huckabee has secured a book deal with Sentinel, the conservative imprint of Penguin Group USA that also recently acquired Donald Rumsfeld's memoirs.
From the announcement: "Governor Huckabee's book will lay out his optimistic vision for America's future and explain how the conservative movement can return to its principles, unify its factions, and take back America."
More on this later, maybe!