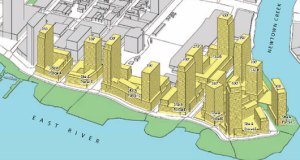 As if there weren't enough affordable housing fights around the city, it's probably time to add another to the list. In Long Island City, at the confluence of Newtown Creek and the East River, the city is at the start of the public review process for a major planned housing complex of mostly middle-income residents called Hunter's Point South (a.k.a. Queens West).
Tonight, the fun kicks off at a Community Board 2 hearing in Queens, where, among other issues, we're willing to bet that people want more affordable housing than is presented in the plan.
The city-led initiative calls for 5,000 apartments, with about 3,000 of them to be aimed at middle-income households (defined in this instance as families of four making up to about $145,000 a year), with the other 2,000 to be market rate.
The plan, which was announced as a large middle-income project in 2006, is facing criticism from affordable housing advocates who want the income targets lowered.
"We're looking for at least half to be" available to low- and moderate-income residents, said Hannah Weinstock, a coordinator with Queens Community House and Queens for Affordable Housing.