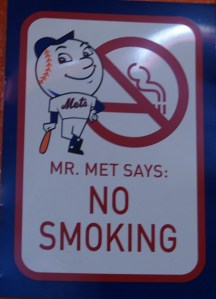 Frank Bozak was feeling defiant.
Standing on a ramp in the upper deck of Shea Stadium with his girlfriend as they deftly passed a lit Marlboro Light back and forth, he described an encounter he'd had earlier during the April 9 game against the hated Philadelphia Phillies with a Mets security guard.
"A security guard told me I can't smoke and then ripped off a piece of my ticket," the 26-year-old fan from Deer Park, Long Island fumed. "If they were going to take away my season tickets, I wouldn't dare try to sneak a cigarette. But if they're just going to keep giving me warnings, then I'm going to keep smoking."
It looks like Mr. Bozak is in for a jittery season at Shea. This year, Mets security guards have been strictly enforcing the ballpark's longstanding smoking ban for the first time in the stadium's 44 seasons.
It's been 13 years since the city passed the Smoke-Free Air Act, which prohibited smoking in the seating areas at stadiums. Mayor Bloomberg extended it in 2002 to include nearly every other public place. But Mets fans still dragged at will on the pedestrian ramps at the edges of Shea, and no one bothered them.
"It's bullshit," said David Diekman, 22, a stocky Mets fan from Long Island, who stomped his foot as he railed against the new regulations. "You can smoke by the ramp as long as you're outside and away from the people sitting down! That's been the rule for years."
The crackdown is an effort by the Mets to prepare fans for the move to the team's sanitized new home, Citi Field, next season where smoking will not be permitted – at all.
"There's going to be no smoking over there," said a security guard said after busting up a brawl between bombed Phils fans and an entire section in the upper deck.
During the Phillies game the enforcers–some dressed in plain clothes and others in orange and blue windbreakers–mounted a coordinated offensive against oblivious inhalers who overlooked the "no smoking" signs stenciled onto the walls. (And those are still few and far between–and don't stand out unless you are looking for them.) "I'm paying eight dollars a beer and now I can't smoke," said 27-year-old Long Islander Paul Rhoades while he stood by himself on a ramp and looked both ways before taking a surreptitious drag from his cigarette. "Eight dollars for a Bud Light! It's ridiculous!"
Oh, and beer prices at Shea have gone up too.
A few minutes after Bozak and his girlfriend headed back to their seats, a winded security guard named Miguel Garcia marched over and broke up a large crowd of smokers on the ramp outside Section 3.
For the few who responded too late, he tore off a piece of each smoker's ticket and said, "You've been warned, Shea Stadium rules."
Mr. Garcia then hurried on to another pack of inhalers not 50 feet away.
But not everyone was so lucky. Security shredded the tickets of some fans, including one of the reporters working on this story, who was standing next to a smoker but not actually smoking himself. (A press pass got the reporter back into the stadium.)
So, are the Mets really getting religion on clean air at the stadium?
"I don't know, but that shit sucks," said Rahiem Wiliams, 21, a Yankee fan from the Bronx visiting Shea for his first time. "It's probably cause they don't sell cigarettes here, so they can't capitalize off people smoking."
Even the hired help sneaked ciggies when they could.
"The whole idea is nuts," said a husky pony-tailed hot dog vendor who quickly lit up a Kool and rushed down the ramp.
The team does have one place where fans can smoke all they want. At the Gate C entrance, an 800-square-foot pen just outside the stadium but inside the ticketing point has been designated as a makeshift smoking pit.
But some fans who didn't know about the smoking den left the stadium to have a smoke and weren't readmitted.
"Yeah, I'm going to walk all the way down from a 27-dollar seat to go to the bottom and smoke a cigarette," Mr. Rhoades cracked.
The pit had only a few takers on Wednesday, while most fans chose to fight the establishment.
At the top of the fifth inning, 27-year-old Collin Kane, a Phillies fan, snuck a smoke from his seat in the top row of the upper deck.
"It's nonsense, we're outside," he said as he carefully hid his cigarette behind his seat and kept an eye out for the smoke busters. "It's bad enough we can't smoke at bars, now we can't even smoke at a baseball game."
How far we've come from the days when pitcher Johnny Podres used to light one up between innings on the way to winning the World Series for the Brooklyn Dodgers in 1955.
So what will the rest of the season be like for smokers at Shea? Head for the top of the upper deck? Employ a lookout for security guards? Or come up with another strategy?
"This is my first game of the season," Mr. Rhoades said. "But I guess I'll have to now."
Of course there is one other option, but it was not discussed that day.