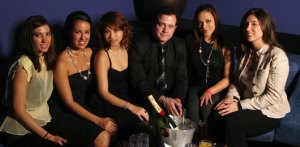 In a real estate industry that seems to thrive on rise-and-shine breakfast meetings, Alex Picken has long marched to the beat of a different drummer. Or, at least, a drum machine.
"Yeah, I don't do mornings, actually," said Mr. Picken, laughing, in a husky, smoker's tone of voice, as techno beats thumped in the background.
That's because, for the past 20 years, he has specialized in sales and leasing of New York City nightspots.
Around the time that most brokers were getting up for their usual early-bird powwows, Mr. Picken was just calling it a night.
"I shouldn't say that, altogether," the veteran venue broker reconsidered, as he wheeled around Manhattan in his black BMW X5 last Friday evening, The Observer riding shotgun. "We're part of the Real Estate Board of New York. We network."
Perhaps no one has pounded the velvet-rope-lined pavement as much, in fact, as Mr. Picken, whose company, Picken Real Estate and Nightlife Brokerage, claims to have "successfully brokered more nightclubs in Manhattan than every other real estate agency combined."
Yet, these days, even the real estate industry's venerable night owl isn't getting out as much as he used to.
"I'm starting to feel the effect of the late hours," said Mr. Picken, who turns 49 next week—but "looking 35," he added, laughing.
"I do get out usually once or twice a week," he said. "Some of the guys that are working for me are really great now. They're out there talking to the owners and managers. So I can catch up with a late lunch meeting."
Cutting back on club-hopping is just Stage One of a drastic lifestyle change ahead for Mr. Picken, a former investment broker who moonlighted as a DJ during his 20s before ultimately blending his two areas of expertise into his own niche brokerage.
He dreams of expanding the company nationally. But, first, he has more pressing plans.
"I'm getting married," Mr. Picken said proudly of his upcoming nuptials to fiancee Pornthip Sooksai, his company's creative director. "Someday I hope to have a kid," he added.
Ms. Sooksai, who goes by Jije, is one of a bevy of attractive young women who, judging by the photos on Mr. Picken's Web site, seem to make up a great deal of his staff. ("The average bar or club owner enjoys being taken out to see properties by attractive people," he explained.)
Their impending marriage is a source of some ribbing from his contemporaries in the industry.
"I know his wife set his bedtime at 9:30," joked James Famularo, executive vice president and director of commercial sales at New York Commercial Realty Services, himself a hospitality-industry specialist, who considers Mr. Picken "a pioneer" in the field. "So, all the meetings are going to be held before then."
Mr. Famularo insisted, however, that Mr. Picken is far from over the hill: "He's got a memory like an elephant. If he doesn't know the operator, he knows the landlord, in any area of the city."
MR. PICKEN'S DECISION to finally settle down comes at a time when many of his longtime clients are retiring from the nightlife scene, altogether. Albeit not always by choice.
The sprawling mega-clubs that became his bread and butter, especially, are rapidly dwindling.
"Only a year ago, we had well over a dozen supersized clubs—and when I say 'supersized,' I'm talking, like, over 10,000 square feet," said Mr. Picken, whose first big deal was the now-defunct Tunnel, notorious nightclub impresario Peter Gatien's sprawling 40,000-square-foot dance club in Chelsea.
There's the famous Copacabana, for instance, immortalized in the 1978 Barry Manilow tune, yet shuttered last summer just five years into a 27-year lease, which Mr. Picken had helped negotiate. The sprawling, roughly 50,000-square-foot venue at 34th Street and 11th Avenue got swallowed up in the city's planned expansion of the No. 7 subway line.
"I don't know when we're going to ever see the demolition on it," Mr. Picken said. "The building is still just sitting there."
Then there's the Avalon, formerly known as Limelight, a roughly 12,000-square-foot party palace in a former church at Sixth Avenue and West 20th Street, which landlord Ben Ashkenazy has threatened to covert into a shopping mall. Or worse: condos.
"Part of the puzzle that I don't understand is, it's landmarked on the exterior," Mr. Picken said. "So you've got to keep the stained glass. How does someone buy an apartment and not have windows that you can look out?"