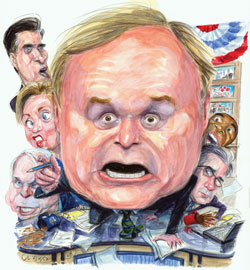 Is Chris Matthews serious about running for Arlen Specter's Senate seat? When asked if he planned to run for office on last night's Colbert Report, the host of MSNBC's Hardball was uncharacteristically at a loss for words. In fact, to watch the video, he looked momentarily stricken.
The Huffington Post quotes Mr. Matthews as telling Mr. Colbert, "Did you ever want to be something your whole life, besides this? When you grow up, some kids want to be a fireman. I want to be a Senator."
Just this Sunday in a lengthy New York Times Magazine profile of Mr. Matthews, writer Mark Leibovich wrote:
The more intriguing notion is that Matthews could challenge Senator Arlen Specter, who is up for re-election in Pennsylvania in 2010. This has been rumored before, but Matthews has been particularly obsessed with Pennsylvania of late, devoting hours on and off the air to the state's upcoming Democratic primary, staying in close contact with the state's party apparatus. "I talked to Eddie Rendell today," Matthew told me on the phone a few weeks ago, urging me again to call the Pennsylvania governor
[…]
I asked him about the Senate rumors. He thinks Specter has hung on way too long, he said, but running would require Matthews to give up a career he loves. Still, "I get a great feeling when I go home," he told me. "Is Thomas Wolfe right? Can you go home again?
"Really, you should talk to Eddie Rendell."