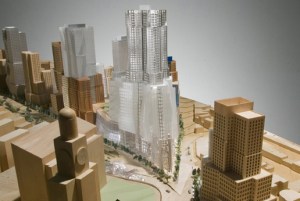 Metropolitan Transportation Authority executive director Lee Sander seems a bit uncertain about the $100 million that developer Forest City Ratner owes the agency for Brooklyn's Atlantic Yards project. He had this to say earlier this month in a capital program "webinar" (no, we don't quite know what that word is either), responding to a question about the MTA's current capital plan:
There is $100 million associated with the sale of Atlantic Yards, and many of you have read in the newspapers some of the difficulty Forest City is having with that development, so hopefully that will proceed, but we want to make sure that that happens—but we're concerned about that.
In 2005, the MTA agreed to sell the rights to build over its Vanderbilt rail yards in Prospect Heights to Forest City for $100 million, an amount that the MTA has built into its current capital plan.
A spokesman for Forest City, Loren Riegelhaupt, said the $100 million would indeed go to the MTA later this year, once the company closes on the deal. Also of note, Mr. Riegelhaupt said the first residential tower would open along with the arena some time in 2010.
Mr. Riegelhaupt's (lengthy) statement:
The reality is the project is moving forward and we are making significant progress on the site each day. Thus far we have contracted out over $42 million worth of work on the site and roughly 50% of the structures on the site have already been taken down. We have begun construction of the temporary rail yard and we expect to break ground on the arena later this year. We expect to open the first residential tower, which will have a significant amount of affordable housing, at the same time as the opening of Barclays Center. By that time we also expect to have started construction on the second residential tower which will also have a significant amount of affordable housing. The rest of Atlantic Yards, including all of the remaining affordable housing, will be built out from there.