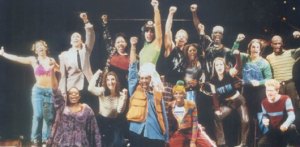 Don't expect those at the New York Theatre Workshop to see the humor in this sad coincidence: they're going to have a hard time paying rent because the Broadway run of Rent closed down. The workshop, a 25-year-old East Village mainstay in Off-Broadway theater, is cutting down its budget from $4.5 million to $3.5 million, partially because of the closing of Rent, which premiered at the workshop in 1996 and has been sending royalties to the company ever since. Six production staff will be laid off starting May 30 and replaced with temps.
But the elimination of a permanent production staff has a more immediate cause, said Fred Walker, the interim managing director of the workshop since December.
Next season, instead of putting on six full productions as usual, the theater will put on three full productions and three shows in its new Off Again series, which presents scaled-down concert versions of Off Broadway musicals. For reasons having as much to do with scheduling as with the budget, there will be no production at the theater between May 18, when the last show of the 2007-8 season ends, and mid-September, when the first show of the 2008-9 season opens. That leaves four months with no shows and a full-time production department.
"Given the season that we're going to go forward with, this seemed the most fiscally responsible way to do it," Mr. Walker said.