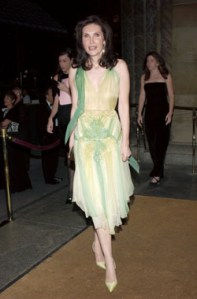 The news this week that a building super was keeping mail-order baby chickens at his luxury U.N. Plaza condo wasn't nearly as staggering as the news that a big-name widow had to sell her Fifth Avenue apartment to settle serious debts.
On Friday, The Observer's Web site reported that Veronica Hearst, who married the late Randolph Hearst when he was in his 70s, after she was married to a Venezuelan leather goods mogul, would be selling off her co-op at 4 East 66th Street for around $30 million.
"It's anticipated that the debts she's incurred will be satisfied shortly," a source said then, maybe referring to a reported $45 million she owes the lender New Stream Secured Capital. (The February foreclosure auction of her 52-room villa near Palm Beach, which sold for $22 million, helped, too.)
But at co-op buildings like Ms. Hearst's, where deals are done in cash—without mortgages—and owners are often supposed to have maybe $100 million in liquid assets, fire sales simply don't happen. "You find that people at River House are rather serious and not as exposed to the vicissitudes," Ambassador Donald Blinken said last month about his co-op.
Even though the sale happened without an official listing, which means it might not have gotten full market price, Ms. Hearst's neighbors don't seem to be panicked. When The Observer called Lewis Sanders, chairman and CEO of AllianceBernstein and the co-op board's president, his wife got on the phone.
"It's a triple-A-plus building!" she said. "She has a gorgeous apartment and it's sold at a top price. … And that's all that can be said."
Despite the board's all-cash rule, New Stream comes up in co-op mortgage filings; a financing statement from September even says Ms. Hearst is indebted to a Georgia lender named Chapes-JPL. It isn't clear if her co-op, or maybe jewelry, was taken as collateral. "Do you live in New York, Miami, Los Angeles, Las Vegas and need money fast?" its Web site says. "If so, Chapes-JPL will do loans for out-of-state customers."
If Ms. Hearst had been forced to foreclose on her co-op shares, would any hoi polloi auction buyer have been able to move in? "A co-op board is not required to accept anybody," said John Sicree, the building's managing agent, who wouldn't discuss Ms. Hearst.
It isn't clear where the widow and her reported housemate, socialite daughter Fabiola Beracasa, will go in the meantime. "She's decided to move to another residence," said Ms. Sanders, who doesn't know who the Hearst buyer will be. "You really don't see people. This is like living in a building alone, as opposed to living with others," she said. "Affluent people prefer that."