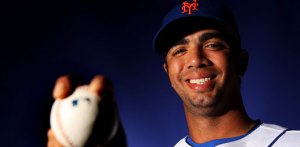 While Nelson Figueroa, scheduled to make his first start for the Mets on Friday night, may be unknown to most American fans, observers from Mexico to the Dominican Republic to Taiwan know the 33-year-old journeyman pitcher as an ace. So do those who have seen Figueroa dominate at nearly every minor league level for more than a decade.
At the major league level, it's been a different story. He has pitched for seven clubs, and has succeeded in sticking with exactly none of them.
Now, injuries to Pedro Martinez and Orlando Hernandez have provided Figueroa with the chance to help his hometown team tonight against the Milwaukee Brewers.
Ask the Brooklyn-born Figueroa, a lifelong Mets fan, to list the uniforms he's put on since his professional career began in 1995, and he struggles. The uniform of the New York Mets is his 20th, including five in four different countries since 2006.
The more recent travels, from Chihuahua of the Mexican League, to Uni Presidente of the Taiwanese League, back to Mexico as ace pitcher for hire with Hermosillo, on to Aguillas of the Dominican Winter League, and finally, with the Mexican team in the Carribean World Series, were trips of necessity.
Figueroa, who every major league organization left for dead following arm surgery in 2004, was just looking for another chance to prove himself. And convincing teams that a then-30-year-old pitcher (now 33), undersize to begin with and coming off of an arm injury, was worth their time would be no easy task.
"After I was released by the Mariners [in the spring of 2006], I knew it was time to go back to the drawing board," Figueroa, an affable man with a slight build and an engaging smile, said as he discussed his travels in front of his locker following Wednesday night's 8-2 victory over the Phillies. "So when I signed with Chihuahua, I told the manager, 'I'm never coming out of a game.' I needed to prove to teams that my arm was sound. The manager asked me, 'Do you have incentives or something?' I told him my incentive was to get back to the big leagues."
Figueroa was true to his word, pitching 10 complete games in 18 starts for Chihuahua. In one start, he pitched 10 innings, throwing 153 pitches—numbers that represent several outings for other starters. While he failed to attract the attention of any American clubs, Uni President then brought him in for the stretch run in the Taiwanese league, and he won Taiwan Series MVP honors while averaging better than eight innings a start.
The performances also earned him instant celebrity in Taiwan.
"First of all, I was recognizable because I was one of only three players who was over six feet tall and not Asian," Figueroa, who is actually listed at 5-foot-11, said. "But my wife and I would be in the malls out there, which are usually six stories or so, and on every floor they'd stop us, and my wife would take pictures of people with me. And everywhere we'd go, you could hear them whispering my name."
On to Hermosillo of the Mexican League, then to Aguillas of the Dominican Winter League for their playoff push. Figueroa started Games 1, 4 and 7 of the championship series, and finished 4-0 for Aguillas with a 1.45 ERA.
"It was only a few games, but it was even more than Taiwan," Figueroa said of the celebrity treatment. "[Astros shortstop Miguel] Tejada and [Dodgers shortstop Rafael] Furcal said it was like I'd pitched my whole career there. I literally couldn't get out of my hotel—the employees would stop me, talk to me, take pictures with me. It was going from being not wanted to being adored. I liked adored better."
He also attracted the attention of the Mets, who saw Figueroa pitching on SNY's winter league coverage.
"[Mets scout] Ramon Pena saw me pitching, and Omar [Minaya, the Mets' general manager] asked him if I could help the organization. Pena came down to see me live, and told Omar I could help them at the big league level."
Figueroa estimates he's thrown 280 innings since 2006 in an attempt to get noticed.
"And the thing is, if I'd stopped at 250, the Mets never would have seen me," Figueroa said. His only offer for 2008 had been from the Chicago White Sox—as an A-ball pitching coach.
The pattern fits with Figueroa's whole career. Though he was a standout high-school pitcher at Lincoln High School in Brooklyn, none of the Big East schools thought he was big enough to pitch. So he went to Brandeis University, the only major league pitcher ever to do so. The Mets made him a 30th-round pick in 1995, but traded him to Arizona, who traded him to the Phillies. Short on pitching, Philadelphia plugged him into the rotation in 2001.
"I finally had a chance to start in Philly, and I gave them eight quality starts out of 12," Figueroa said, a note of annoyance in his voice. "Then they sent me to the bullpen. And the questions start again."
Then came Milwaukee, then Washington, then Pittsburgh. His major league performance was a little worse than average. No team gave him even a dozen starts.
"I know my rap has been that I'm a quadruple-A pitcher," Figueroa said. "Well, I have had very limited opportunities to get the ball every fifth day and start."
Figueroa has indeed been, for what it's worth, the Johan Santana of the minor leagues. His statistics in 208 minor league starts: 97-55 with a 3.47 ERA, a stone's throw from Santana's 94-45 and 3.20 ERA in 177 starts.
"All I hear about is lack of pitching, lack of pitching for teams," Figueroa said. "Maybe if I'd burned a bridge? But I have always done well by teams, put myself out there, appearing at schools, anything I can do."
Figueroa believes this time will be different, that he has the confidence of his manager. And Willie Randolph did nothing to dispel that.
"Just give us a quality start, man," said Randolph, talking on Wednesday night about his expectations for Figueroa. "Nelson had a decent spring for us. He has some experience, he's been around the block a few times, and we just hope that he can keep them off stride."
Figueroa says he won't be satisfied with six innings, the minimum to qualify for the quality-start stat.
"I'm ready to go well past 100 pitches," Figueroa said. "I'd like to give the bullpen a rest. They've been worked hard this season. I'd like to give them eight and turn it over to Billy [Wagner] for the ninth."
But despite such hopes, Figueroa said he's not losing any sleep over what, at age 33, might be his final opportunity to establish himself in the big leagues.
"There is no pressure, honestly," Figueroa said. "This is the fun part. This is what I've worked for—to start a major league game for my hometown team."