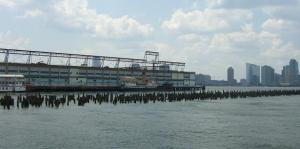 We may be seeing the limits to public-private partnerships in park development.
The plan to use funds from the development of the West Side waterfront to finance new park construction and maintenance seems to be collapsing. While this doesn't mean an end to these partnerships, it is a signal that public amenities still require public investment. There really is no such thing as a free lunch.
The latest episode in the Pier 40 saga took place on March 28, when Hudson River Park officials rejected a plan by Related Companies to build a $625 million performing arts complex on Pier 40, located at West Houston Street. The Hudson River Park Trust is the joint State-City agency responsible for building and operating the Park. After a failed bid in 2003, in August, 2006, the Trust issued a request for proposals (R.F.P.) to redevelop the pier. According to the R.F.P., the Trust's objectives for redevelopment were to:
"incorporate park-appropriate revenue generating uses to create an income stream for the overall park; maintain and improve Pier 40; enhance waterfront access opportunities for the surrounding community and region; and reconnect the park to the surrounding neighborhoods. The proposal requires that approximately 1,800 public parking spaces be retained primarily for long-term use by area residents, and that the current public access, programming and size of the existing athletic fields be retained. The Trust stated that it would consider alternative locations for the fields on the site provided their accessibility and configuration was equal to or greater than the existing sports fields. Under New York State's Hudson River Park Act, Pier 40 is one of three spots along Hudson River Park, where commercial development is allowed to generate revenue for park maintenance.
However, the Hudson River Park Act prohibits the use of the pier for, hotels, residential units, office uses not related to permitted park uses, manufacturing, "big box" retail, warehousing and gambling vessels. The Act requires that at least 50 percent of Pier 40's footprint be devoted to non-commercial park space. In addition, the Act specifically states that commercial parking at Pier 40 be used for long-term monthly parking.
The pier, which contains approximately 1.2 million square feet of space and spans 14 acres, is one of the largest in the city. It was used briefly by the Holland America Line after opening in 1963, but has been used as a parking garage for most of its existence. Today, 2,000 long-term parking spaces, excursion boats and the offices of the Hudson River Park Trust call the pier home. A three-acre courtyard in the center of the pier's roof has been transformed into soccer and baseball fields used mostly for little league games and funded in part by the Lower Manhattan Development Corporation (LMDC) and grants from Nike and the U.S. Soccer Foundation. According to the Trust, the parking spaces provide a reliable revenue stream of more than $5 million, which is about 40 percent of the park's operating revenue.
The Related Companies proposal rejected in late March, was one of two bids to redevelop the pier and generate cash for the park. This rejection came one day after Related lost out to rival developer Tishman Speyer in the bidding process to develop the Westside Hudson Rail Yards. According to a March 27 article in The New York Sun:

"It is not that their plan doesn't work, it just doesn't work if they don't get a longer lease," Chairperson of the Hudson River Trust, Diana Taylor, said in an interview. "With a project where you have $120 million invested before it is revenue producing it takes a little longer to earn your revenue back." "I would have loved to offer a longer lease but that is not within our power. It is up to the state legislature and we have been told in no uncertain terms that it is not happening," she said.

The Act was amended to allow a 49-year term at Pier 57 because the prospective developer was able to demonstrate that the project would provide superior benefits to the community and Trust. However, Related's plan had been opposed by community groups that use Pier 40 for its soccer and baseball fields, and did not generate the political support needed to get a longer lease.

The Camp Group, a for-profit consortium that organizes day camps, is now the only developer bidding on Pier 40. They have a little more than two months left to submit plans for development of Pier 40 and are now working with the Pier 40 Partnership, a non-profit group opposed to commercial development that has pledged to raise $30 million in private donations to redevelop the pier. The Pier 40 Partnership was created by Friends of Hudson River Park, a collection of environmental and civic groups, neighborhood and community organizations, businesses and individual citizens working to raise private-sector advocacy and financial support for a world-class park on the Hudson from 59th Street to Battery Park. Their goal is to create an "urban waterfront." According to the group's website, "Pier 40 is one of Hudson River Park's greatest potential assets. With its 14-acre footprint, it has the potential to provide the largest contiguous park space in the Park; and it is the only site that can support large-scale athletic fields for youth and adult sports."

Those heading the Pier 40 Partnership feel their conservancy, not a for-profit group, must be in charge on the pier. In a Feb. 26 letter to Council Speaker Christine Quinn, Connie Fishman, the Trust's president, revealed the Trust's current thinking: A goal is to see if elements of the three plans can be combined "in some fashion by a nonprofit developer to create a tax exempt-eligible proposal that could be financed in the required 30-year term." (See this article in The Villager.) According to a Jan. 30 New York Times article: "Opponents such as State Senator Thomas K. Duane and Assemblywoman Deborah J. Glick, who represent the area, say "a mega-entertainment destination" that enriches a private developer in a public park is the wrong course to follow. "Those venues already exist in Manhattan," Ms. Glick said. "What we don't have is park space."

The question raised by Pier 40 is the degree to which public amenities like parks can be financed by the profits of private development. The great park building eras in New York where characterized by public investment in public amenities. Senator Duane and Assemblywoman Glick are arguing that the type of development needed to generate the income needed for the park, can not be co-located with the park. This may be true, and may force us to find a way to generate public funds for the park. The Pier 40 Partnership is hoping that the funds needed can be raised by a private, nonprofit group such as the successful Central Park Conservancy or the Bryant Park Corporation. It appears that the Partnership is hoping that there is enough wealth nearby to pay for this amenity without requiring government expenditures. Of course, the absence of private economic activity does cost the government revenue that would be generated from that activity, but forgone income is less likely to be missed than allocations from the public treasury.

Why is this happening? Why are we unable to find the funds we used to find when we built public parks? The simple answer is that the role of government has changed. The funds that once might have been avail
able for infrastructure like parks, roads, mass transit and schools are now devoted to entitlements such as health care, retirement and welfare. I am not arguing against social welfare programs, simply indicating the source of fiscal stress. At one time, New York City devoted public resources to housing and build a public housing system that still houses 600,000 people. Today, the only new below market rate housing built is generated by set-asides that developers agree to in order to receive permission to build luxury buildings, or by non-profit institutions that build housing for their own clients. Robert Moses was able to build new parks and public housing from the 1930's to the 1960's with public funds and labor, today we are looking for park funding from private developers or wealthy benefactors.

The problem with this funding model is that it only works if the parks are located near the homes or businesses of the wealthy. We still need public funding for parks in the South Bronx and in the parts of the city that are not wealthy. In a city that is running out of land to develop, the temptation to sell or lease park land will only get stronger. Pier 40 is a warning about the need to maintain public control over these essential public resources. Open space and river breezes are priceless treasures rather than tradable assets. We should keep that in mind.