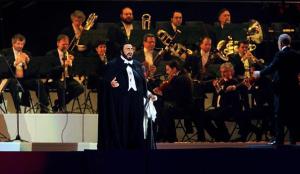 Conductor Leone Magiera helped Luciano Pavarotti orchestrate a lip-synched performance at the 2006 Turin Olympics, he told The Guardian. He said "video trickery, careful lip-synching and a compliant orchestra" were used to simulate the performance.
According to Mr. Magiera, the world-renowned vocalist was in such poor health by 2006 that he was too nervous to give a live performance.
But, as The Lead notes, Mr. Pavarotti was so loved by his devoted fans that they didn't seem to mind mainly because of the genuine effort he put into his lip-synching. Commenters on YouTube wrote: "Knowing when to cut off that final high note to match a tape would be next to impossible," and other favorable remarks about the singer's voice.
Take note, Ashlee and Britney: if you do lip synch, there is still a gold standard to measure against.