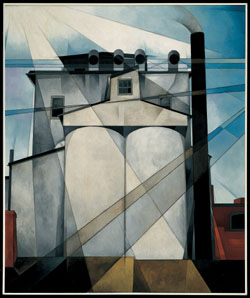 Squirreled away in the Whitney's mezzanine galleries, far from the Biennial's hubbub, is an exhibition of paintings, drawings and watercolors by the American modernist Charles Demuth (1883-1935). "Chimneys and Towers: Charles Demuth's Late Paintings of Lancaster" is devoted predominantly to industrial images of Demuth's Pennsylvania hometown.
On a basic level, the exhibition is a record of a man whose will to paint was tested by health problems. Demuth was diagnosed with diabetes at the age of 38. Though benefiting from the discovery of insulin in 1923, he was plagued by sickness for the rest of his life.
Physical stress and the studio blurred into each other. "My living and work," he wrote, "seem … quite beyond control, both smothered by trifles." But Demuth's frailty isn't evident in the paintings. If anything, his pictorial rigor gained in concentration and surety. It was during his last years that he painted My Egypt (1927), a signature work of odd power.
Demuth lived for short periods in New York and Paris, but Lancaster remained home. He described the place, fondly and with irony, as "my province." (One piece at the Whitney is titled In the Province.) Demuth's frail condition necessitated living with his mother. The poet William Carlos Williams described her as a "horse of a woman"; she served as her son's caretaker.
Demuth was passionate about gardening and found inspiration in its bounty, the morning pickings from the family garden prompting jaunts to the studio. The resulting watercolors are shatteringly intimate elaborations on the diasies, lilies and gladioli he found there. The handful of garden pictures at the Whitney highlight Demuth's preternatural rapport with the natural world.
Demuth's watercolors of flowers, acrobats and, in the tender homoerotic farce Distinguished Air (1930), culture mavens are marked by offhand trails of elegant contours and grainy surfaces. But strict geometry defines the oil paintings. On the rare occasions that they include organic forms, they're contained and regulated—the plumes of smoke in Buildings (ca. 1930-31), for instance. Observational fidelity was sacrificed for stylistic abbreviation.
Demuth's paintings are exemplars of Precisionism (or, as it has also been dubbed, "Cubist-Realism," a term that identifies the school's primary influence). The Precisionists were an informal cadre of painters including Charles Sheeler, Elsie Driggs and Niles Spencer that took Cubism's pictorial fracturing and applied it to America's industrial landscape. Meticulously delineated, the paintings tend toward flat colors, straight lines and blocky shapes.
The pictures aren't altogether purist in form. My Egypt is almost Biblical in portent; the bleaching beam of light originating at the upper left corner suggests an otherworldly and harsh presence. A thin strain of alienation permeates the paintings: The bright yellow sign in Buildings, Lancaster (1930) advertises Eshelman's feed, but its combative impact isn't directed at anybody. There are no people to be seen in any of the canvases.
The paintings are orchestrated on perspectival logic, even if it is sometimes shifted for compositional effect. The skewed lines superimposed on Demuth's water towers and anonymous buildings connect the work directly to Cubism. Outlined by razor-sharp black outlines, Demuth's diagrammatic intersections fracture color and, through it, space, if not particularly shape.
The dour Chimney and Water Tower (1931) is relatively free of Cubist overlays. Demuth went crazy in Buildings, Lancaster (1930)—the lower right corner all but relinquishes itself to Cubism's spatial ambiguity. But as much as the dividing lines activate the pictures, they nonetheless falter with self-consciousness. Demuth, mindful of Cubism's radical reconsideration of pictorial space, imposed them on images that already benefited from modernism's liberties. He didn't misunderstand Cubist principles—he misapplied them.
The exhibition includes Alfred Stieglitz's Charles Demuth (1923), a haunting photograph of an emaciated artist. Demuth was one of Stieglitz's circle—it included Marsden Hartley, Arthur Dove and Georgia O'Keefe. Demuth established a close friendship with O'Keefe—he bequeathed all of his paintings to her. Demuth scholar Betsy Fahlman attributes their bond to a shared outsider status, O'Keefe being a woman, Demuth a homosexual.
Demuth was an integral component of the American avant-garde and its attendant social circuit. On his trips to New York, he attended Florine Stettheimer's salons, and parties given by important collectors like Walter and Louise Arensberg. Demuth hobnobbed with Marcel Duchamp, Lincoln Kirstein and the art critic Henry McBride. In Provincetown, Demuth frolicked on the beach with Marsden Hartley and Eugene O'Neill. He was something of a player.