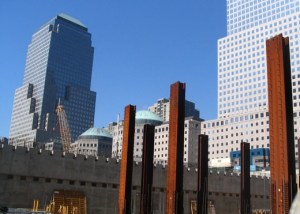 Yesterday morning we took a little jaunt downtown to check out the progress of the Freedom Tower. Accompanied by some folks from the Port Authority, which is developing the tower, we took a few shots from the construction site. Work is slated to rise above street level later this year.
For now, the sub-grade work seems to have a whole lot of workers installing a whole lot of cement and rebar. The site was mostly empty and the vast majority of the work has come within the last year. The Port Authority said they still are on schedule for completion in 2012.
The steel beams poking form a perimeter for the building's edge, while the bulky concrete structure in the center is the tower's core, holding its elevators and stairs.
A worker amid a forest of rebar
A worker at the northern wall of the site
A bit less activity at the site for Tower 3 and Tower 4. Developer Larry Silverstein received the site from the Port Authority in February 2008, and is now doing foundation work.
The site for Tower 2. The Port Authority has until June 30 to excavate this down to bedrock, when it will owe Silverstein Properties $300,000 for each day's delay. There is an incentive of around $10 million for the contractors to finish on time, according to a Port Authority spokeswoman.