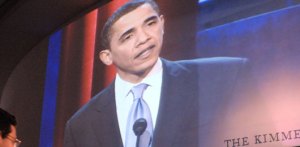 Obama campaign manager David Plouffe tried to land some belated counterpunches for his debate-battered candidate on a conference call just now.
He argued that "over half the country's voters" do not find Senator Clinton "trustworthy," because she has run a negative campaign. "Her campaign can really be defined as an attack strategy," he said, and called it a "Relentlessly negative campaign here at the end."
Plouffe said that based on what he called the increasing number of superdelegates backing Obama in the home stretch, there had been "a real recoil to the Clinton negativity."
When asked about Bill Ayers, he said "the Clinton campaign has been agitating to get this into the bloodstream for some time," but given that it was out there now, it was right and proper that he respond by pointing out her "exposure" on the issue, namely Bill Clinton's pardon of two Weather Underground members convicted in the "Murders of two New York City, New York State police officers."
Plouffe said superdelegates were the intended audience of the Ayers attacks, and closed by saying the Clinton campaign was "Engaged in a really low grade brand of politics."
Earlier today, the Clinton campaign argued that Obama's weak response to such subjects revealed him as a flawed general election candidate.