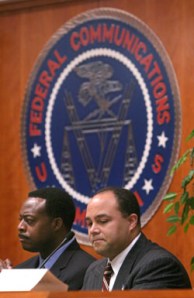 "We're mostly a bunch of newspaper hacks," said Jim VandeHei, the executive editor of the political media entity Politico, which, if you are, statistically speaking, like most Americans, you are more likely to recognize as the somewhat obscure co-sponsor of some of this election season's televised presidential debates than from its Web site, politico.com, or its printed Beltway cheat sheet, The Politico.
He was talking about himself and his boss, John Harris, whom he followed out of The Washington Post in 2006 to join the nascent Allbritton-owned media property amid some print-industry-rankling hubris.
"I think we'll show that we're better than The New York Times or The Washington Post," he told The Observer at the time. Back then, Politico was conceived as a news-gathering omnivore, recruiting its reporting talent from traditional newspaper, Web and television backgrounds to join the fast pace of the 24-hour, multiplatform news cycle.
When Allbritton Communications, a D.C.-based media company, launched Politico in January 2007, executives described the nascent venture as a politically obsessed news outfit that would operate over multiple platforms, including print, web, and TV. A Politico Web site and newspaper debuted shortly thereafter.
But the TV show dawdled, until now.
In the coming months, the company plans to launch a Sunday morning political television talk show, to be dubbed Politico TV.
"We don't want it to be a traditional Sunday show," said Mr. VandeHei. But, "luckily we have a bunch of talented TV people around us."
In fact, the translation of the print and Web identities of Politico, Mr. VandeHei confessed, will take some time to hammer out.
"We want to create TV that has some of the Politico edge to it," he said. "That takes a lot of experimentation."
Recently, that experimentation has been taking place on Capital Sunday, a half-hour political show that broadcasts at 9:30 a.m. on WJLA-7, an ABC affiliate (which, like Politico, is owned by Allbritton).
There, in recent months, anchor Leon Harris has played host to an increasing number of guests culled from the Politico ranks.
On the March 30 telecast, guests included Politico editor in chief John Harris, correspondent Jeanne Cummings, columnist Roger Simon and reporter Carrie Budoff Brown.
"We're sort of trying out different segments right now," said Mr. VandeHei. "Once we feel like we have the total package ready, that's when we would switch it over to Politico TV."
The Sunday morning D.C. chatfest is not an uncrowded space. Normally, these kinds of shows can gain traction only by landing some decent Beltway "gets" or, very occasionally, by getting insiders and smart people to put such a new spin on the political news of the day that the voice becomes an essential ingredient in the Sunday political punditry corps.
Mr. VandeHei is going to take the latter route.
"Are you going to get the presidential candidates on day one?" said Mr. VandeHei. "No."
Therefore, no long-form interview format, which depends so completely on landing one or two top guests.
"The question is, can you bring someone who really knows politics and could be part of a fast-paced debate about what's going on?"
Take Hillary Clinton spokesperson Howard Wolfson.
"He's a fascinating guy, who understands politics," said Mr. VandeHei. "Just interviewing him I don't think would necessarily make for that distinctive of TV. But including him in a conversation, where he's part of a panel debating what's happening in the campaign versus being the spokesperson for Hillary Clinton, there's the potential for taking people inside the process."
In any case, segments will be short.
So far, the tryouts for recurring features have been less than radical. One innovation, said Mr. VandeHei, was a segment called "Turn the Tables," in which the guests get to ask questions of the host rather than vice versa.