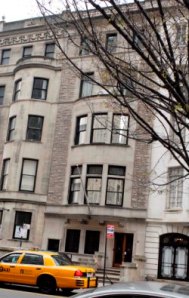 If not for the presence of a dozen NYPD squad cars and at least as many uniformed cops on East 72nd between Fifth and Madison Monday morning, one would never suspect that Pope Benedict XVI would be staying on the well-heeled, quiet residential block during his three-day trip to the city beginning Friday.
The pope will be bunking with the Vatican's representative to the United Nations, Archbishop Celestino Migliore, who lives in a townhouse at 20 East 72nd Street—just a stone's throw from the Ralph Lauren store and an Egyptian Shawarma vendor camped on Madison Avenue on most weekdays.
Compared to the Vatican's headquarters in Rome, the five-story, 10,960-square-foot, neo-Rennaissance residence of Vatican City's permanent UN observer is pretty inconspicuous. The iron grille doors are marked by two Coats of Arms of the Holy See—the papal insignia of two interlaced keys topped by a crown—carved in gold. The ground floors are made of rusticated limestone and the top two levels of rock-faced stone.
Otherwise, it looks like your run-of-the-mill, $17 million, Upper East Side townhouse (PropertyShark valued the building at $16.9 million in 2007/2008, and tentatively estimated it would rise by $1 million in 2009/2010.)
Like much of the Vatican's real estate portfolio, 20 East 72nd was donated to the Archbishop of New York.
The family of the late Hugh J. Grant, who served as New York City mayor from 1889-1892, transferred the deed for the single-family home to the Archibishop of New York on Jan. 13, 1975, city records show.
Built between 1892 and 1894, 20 East 72nd was one of three adjacent five-story townhouses designed by Rose and Stone architects—another, number 18, is currently being occupied by Spain's UN Mission—according to the Landmarks Preservation Commission's 1982 Upper East Side historic district designation report.
Police Commissioner Ray Kelly has announced heavy security across the city during the Pope's visit. Residents of the four co-op buildings on the same block as Mr. Migliore's will have to be escorted to their lobbies by security.
On Monday morning preparations were already being made for the Pope's arrival, but no one The Observer spoke to had been told about the special protocol.
"It's going to be heavy, heavy, heavy," said a driver named Herb who worked for the same family when Pope John Paul II came to New York in 1995 and stayed at 20 East 72nd. "Last time they had barricades at Fifth and Madison, the manhole covers and mail boxes were sealed, they had checkpoints to inspect packages before they could be delivered."
It sounds like quite a hassle, but Herb seemed unruffled by the interruption. "It's not like it happens every day," he said.
A parking attendant at a garage on the block said a few special agents had inspected the garage but they were not expecting any instructions until Wednesday or Thursday.
A construction worker at 7-9 East 72nd also said he was waiting to hear whether his crew would be able to work later in the week.
If not, he said, "it's a day off."