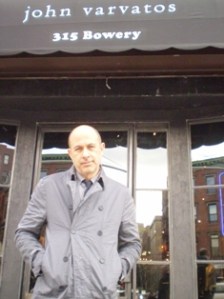 Demonstrators who picketed the new John Varvatos boutique on the Bowery last week plan a second wave of protests tonight, as the fashion designer celebrates the store's grand opening with a splashy charity concert.
The shop is located on the site of the former legendary rock club CBGB, which shuttered in 2006 after a lengthly rent dispute with its landlord.
"We'll have more humorous (and pointed) neon pink signs…" e-mailed activist Rebecca Moore, who last week carried a placard reading "ONE 'SMALL' LOSS OF A MUSIC SPACE, ONE LARGE STEP FOR PANTS."
"This is not about one music space, or just about cb's," Ms. Moore wrote, "or whether you thought [former CBGB proprietor Hilly Kristal] was a good businessman or not, or whether you gigged there – – but it is about the type of intense gentrification being used to sell the Lower East Side; it is about the co-opting of culture to sell overpriced luxury goods. This is about small music and cultural and community spaces getting pushed out of the city, so that the wealthy can position themselves as saving it (or just the buildings) … but in fact, only using it as a marketing tool for their unaffordable wares."
In an interview with The Observer this week, Mr. Varvatos insisted that he is not to blame for the neighborhood's gentrification.
"We don't set the rent here," he said. "We didn't kick CBGBs out of here. We didn't force them to go. It was empty for a year. This could've been a bank, a deli, a Starbucks–it could've been a lot of things. At least we invested in saving what was here.
"I can't save the music venues in this city," he added, "but I can save a part of history."
In addition to preserving the hallowed venue's old sticker and graffiti-clad walls–and possibly preventing a bank from moving in–Mr. Varvatos said he is also hoping to support the local rock scene in other ways.
"We're basically taking our profits and putting it into an artist development fund, so we can do shows at least once a month in this store," he said. "We have a stage, it expands, it turns. And we will put shows on in this store.
"I'm not going to be a club promoter here. I'm not going to run a club every night. But to be able to do it a couple times a month, and having cool young people that you think don't have the funding behind 'em or they don't have a record company behind em, that you can put out in front of people, and you can do that also where people don't have to pay to come listen to it. There's something pretty cool about that. There's not a lot of places in the city like that."