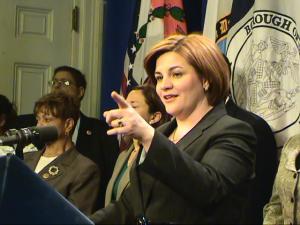 In her clearest remarks to date about the slush fund scandal at the City Council, Christine Quinn told reporters today, "I am not a target of the investigation."
The remark came during a Q&A with reporters following her announcement that legislation would be passed later today in order to rezone Harlem and create a permanent office of long-term sustainability.
A newspaper reporter began his question to Quinn by saying, "You say that you're not the target of the investigation – "
Quinn interupted, "I don't say I'm not the target of the investigation. I am not a target of the investigation. To say that [the other way] implies that's my belief. I am not a target of the investigation."
Another reporter yelled out, "Were you told that?"
"The lawyers have [been]," she responded.
Reporters pointed out that attending the press conference were people who were possible targets of the probe: Larry Seabrook, Maria Baez, and Maria Del Carmen Arroyo, all of whom were singled out in various stories about suspicious member items they sponsored.
Quinn went on to say that her staff is working on a memo presenting guidelines for City Council members seeking to hire outside lawyers, like she did, and will evaluate whether those legal bills, like hers, should be paid for by taxpayers.
She also said that Peter Vallone Jr. was working on legislation to better regulate, and possibly ban, the practice of Council members steering money to groups that employ or are directly connected to that family members.
When asked if she personally supports that concept, Quinn declined to say.
"I'm going to leave that till we get the bill and we have the debate in the Council," she said.