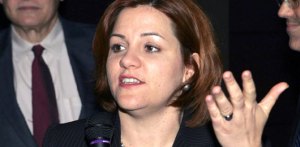 This could be another tough day for Christine Quinn.
She's going to meet with the 47 other members of the Democratic conference in the City Council today at 4 p.m., which will be the first time she speaks officially with many of her colleagues about the accounting-practices scandal that she's now spent the good part of two weeks trying to quell.
Members from theBronx briefly discussed Quinn at a meeting in Morris Park on Saturday, and were set to meet again this morning at Joel Rivera's office. The Brooklyn delegation met in Brooklyn Borough Hall yesterday, where, according to two attendees I spoke to, some members began to realize for the first time the impications of the fact that Quinn's staff hid money behind fictitious groups in order to disperse it later.
And various members will find yet more grist for outrage in Quinn's attempt at a corrective reaction: her plans to have the mayor sign off on a new process for dispersing member items, which will cost council members control over the one area of the budget where they actually do have some influence.
Oliver Koppell, a Quinn ally and member from the Bronx, described his concerns to me last night. "So we take $50 million for [member items], and $25 million for the speaker. That's $75 million where we have some power to allocate specific money to specific purposes we think are important," he said. "We don't want to give away a third of that. We want, perhaps, to have more involvement in where that third goes."
"At the end of the day, the City Council is the checks and balance on the mayor's office," said Joel Rivera, a member from the Bronx and majority leader in the Council. "So there are some concerns we would be ceding some of our powers to the mayor's office."
One attendee at the Brooklyn meeting yesterday told me that the proposed changes will weaken Quinn and the office of the speaker, since her approval won't be needed in order to get local funding.
"They don't need Christine Quinn," one person who attended the Brooklyn meeting yesterday told me. "Members will cut all their deals with the mayor."