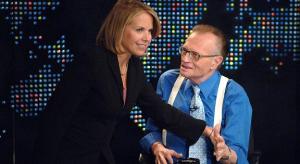 On Tuesday April, 22, Steve Krakauer of TV Newser was the first to report that CNN's suspender-wearing newsman Larry King had re-upped with the cable news network through June 2011.
The news immediately kicked up more speculation about what that might mean for the beleaguered Katie Couric, who had been (conveniently!) rumored as a possible replacement for Mr. King, sometime next year. Most commentators greeted the news of Mr. King's contract extension as a sign that, whatever else she might end up doing, Ms. Couric was now unlikely to join CNN's primetime lineup.
But not so fast! Now Verne Gay of Newsday has reported that Mr. King "did not secure a guarantee to continue anchoring the 9 p.m. hour," which according to Mr. Gay's sources, "opens the door wide for Couric when she leaves CBS after the inauguration, as she almost certainly will."
"When the Katie-out-at-CBS story broke a couple weeks ago, CNN – with remarkable haste – signed King to a new deal that will carry him through 2011," writes Mr. Gay. "But Larry effectively was given the kingdom without getting the throne. Sure, he'll be at CNN – but at 9? The answer to that is the only one that matters."