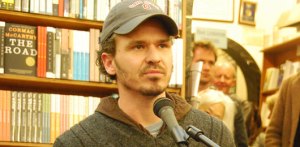 By now you know that Dave Eggers can do almost anything. But, according to an interview on Vanity Fair's VF Daily with singer-songwriter Aimee Mann, the author, publisher, charity head, and screenwriter cannot whistle. At least not the right kind of whistle.
VF's Jim Windolf and Ms. Mann had the following exchange in which she revealed Mr. Eggers' less than stellar whistling acumen:
I read that Dave Eggers does the whistling on the song "Little Tornadoes." Is that right?
[Laughs.] Well, technically, there may be some Dave Eggers on there. It's funny, because I did this show—he has this charity, a tutoring program called 826 Valencia, and I've done a bunch of benefits for them—and I heard him whistling backstage. I was like, "Dude, wow, you can really whistle!" He was this sort of awesome whistler. So like a year later I needed whistling on this song, so I said, "You gotta come down and whistle on this song." And then we realized his style of whistling is not, like, melancholy enough. It has a lot of vibrato and it's sort of jaunty. It's fantastic, but it didn't really fit. And the other thing you realize is that just because somebody can whistle doesn't mean they can necessarily whistle the melody that you are trying to get them to whistle. So there's some Dave Eggers whistling, but there's some that had to be replaced.