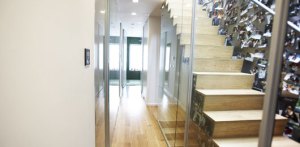 Ricky Kenig is a dramatic man. In February 2006, the beauty and costume shop kingpin spent $1,375,000 on a nice little Park Slope brownstone at 409 Eighth Street, and then he obsessively, expensively, tremendously and fluorescently gut-renovated it.
"I'm real anal," Mr. Kenig, a divorced father of teen girls and a baby, said about his restoration tastes. "It's like the worst thing."
For example, his front door's motion detector causes the huge top step to light up for visitors. But what color? "I just have the regular eco-friendly white one." Inside are even fancier dimmable florescent lights: "You can't get it in America; I got them from Austria. I'm the only one with it." He's also the only one with a collection of 96 vintage copper Chinese mannequin heads, caged in metal and drilled into a front wall.
But even though it's been just two years and two months since he bought the brownstone, Mr. Kenig is already putting it on the market, for $3.2 million, with the broker Aaron Lemma. "I don't need 3,300 square feet for a single father, that's the main thing. If I had a girlfriend and I had live in-help—that's what this is designed for—it would be a lot easier."
"One thing I do know is whoever purchases this house is going to be a pig in shit," Mr. Kenig said, "because all of what I did is worth so much money to not go through." Not all of Park Slope's stroller-pushing renovators put in a three-story magnetized wall along the stairwell, or a video monitor system ("I just have a few hidden—one in the back, one in the front, and one on the roof—more like a mental relief"), or three Kohler Purist Hatbox toilets. "I even bought a fourth one as a backup," Mr. Kenig said about his $3,198.80-and-up bathroom trophies. "I keep it in the basement. I definitely have issues."
Besides the financial strain of a taste for hatbox toilets, or, say, ionized and tempered glass, Mr. Kenig's renovations took a mental toll, too. There was that time he was forced to take a hammer to his custom-made, stick-like Philippe Starck shower because it just wasn't quite right. "It was off by an inch. It was a fucking inch! It was actually three inches. And I couldn't handle it."
Still, he'll start a brand-new project in Brooklyn when he sells the place, he said, although it won't be this glamorous. He'll miss his old top-floor master bedroom suite, with its wall for his gargantuan sneaker collection, a hefty aluminum dresser and dashes of black mirrored glass.
And his 14-year-old twin daughters will probably be upset to leave their own full floor, where their bedrooms are connected by a sliding-door TV room. They also have an office, but it's the only room in the house not wired for music, Mr. Kenig said, for when the tutors come. On the bright side, the twins' glossy green bathroom has a radiant heat grass-print floor. "Anything that my kids wanted to change, we changed," he said, "and upgraded even more."