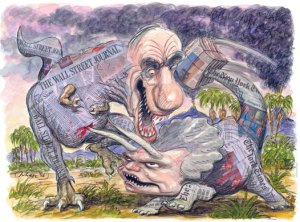 Marcus Brauchli's last supper with The Wall Street Journal had been a good one.
Seated at a table in the ballroom of the Ritz-Carlton Hotel on 22nd Street NW in Washington, D.C., on the evening of April 21, he'd been offered a roasted red apple stuffed with bleu-cheese mousse; a Vidalia onion-crusted petite filet mignon with baby turnips; a chocolate mousse bombe with a dark chocolate crème brûlée center; and two wines, a 2006 California Chardonnay and a 2006 Pinot Noir.
Hosting was the Atlantic Council, the public-policy think tank run by Mr. Brauchli's former Journal colleague, Fred Kempe. Tony Blair was there! But so were a lot of his colleagues from years of working at The Journal. Next to him was John Bussey, who at one time was his assigning editor on the foreign desk; more recently, thanks to Mr. Brauchli's elevation 11 months before to the top editorial position at The Journal, it was Mr. Brauchli who assigned Mr. Bussey to the increasingly important role of Washington bureau chief.
Journal editors and reporters, past and present, had packed the joint. Editors Jerry Seib, David Wessel and Alan Murray were there, as was Mr. Brauchli's popular predecessor, Paul Steiger; former Journal star Larry Ingrassia, now the business editor for The Journal's new great rival, The New York Times, was there; reporter Sarah Ellison was recording the awards dinner for posterity for her book about Mr. Brauchli's new boss, Rupert Murdoch. The Australian-born international media megalith, the owner of News Corporation, and, as of December 2007, the owner of The Journal, was one of the night's honorees, getting an award for his business smarts. He was sitting two tables away.
It was a long evening, and Mr. Brauchli must have been pretty tired from his week spent traveling the globe. In Los Angeles and San Francisco, there was the glossy insert magazine, WSJ., to sell to advertisers—and an increasingly impatient and nervous group of reporters covering Hollywood, Entertainment and Silicon Valley for the paper to soothe and appease. Not long before he'd journeyed to China.
But the long dinner was scarcely over, a little after 8:52 p.m., when the room started buzzing like crazy. The Journal-ists were all jumping up from their seats and waving their BlackBerrys at each other. Time magazine's Web site—Time!—was reporting that Mr. Brauchli was officially out of a job.
Mr. Brauchli, who quickly figured out what was going on, kept his seat for about an hour as the proceedings continued, and just as the ceremony was drawing to a close around 10 p.m. suddenly popped out of his seat.
But The Times' Mr. Ingrassia leapt from his place and ran after him to ask him about the news.
"I can't talk," Mr. Brauchli told his former colleague.
It had been a nearly impossible 11 months for Mr. Brauchli, and Mr. Ingrassia's scrappy stringing effort only goes to show how personal the takeover of The Wall Street Journal—and the declarations of newspaper war by Mr. Murdoch—has become.
But if it had seemed for weeks like the war that would never start—don't they all?—suddenly reports of gunfire were ringing in everyone's ears. Now, Mr. Murdoch's war had begun.
Within the last week, on visits to two West Coast bureaus, reporters there painted a picture of a dispirited editor who looked and sounded trapped by conflicting visions for the newspaper. On a trip to the San Francisco bureau on April 16, the low-key but normally charismatic Mr. Brauchli looked dour, his face drawn. The questions thrown at him were tense: What's going to happen to the "A-hed," those offbeat Page One stories about things like aging pets and farming neighbors? Was the paper to be front-loaded with general stories about San Francisco politics, or did they still want to hear every mouse click coming out of Cupertino? Does Rupert Murdoch care about Pulitzers?
Finally, as a way to ease the tension, Robert Guth, the paper's Microsoft reporter, tried to change tack.
"Are you having fun?" Mr. Guth asked, according to people present.
Mr. Brauchli appeared distracted—he was looking around the room, scrolling through his BlackBerry, and the question seemed to stop him cold.
"What did you say?" Mr. Brauchli replied.
Mr. Guth repeated the question.
"Well, I'm still here," Mr. Brauchli said, and the laughter that followed was strained.