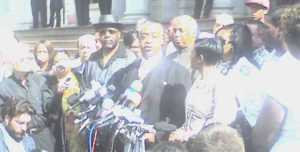 Al Sharpton just finished a press conference with friends and family of Sean Bell, saying they hoped justice would be dispensed by the trial judge, who will announce a verdict Friday.
Sharpton also refuted the notion that their supporter need to be reminded not to act violently if they are unhappy with the decision.
He went on to say that it was the police who acted recklessly when they approached and fired on Bell and his friends without just cause.
"At the approach, the recklessness started," Sharpton said. He added, "We've always called for peace."
Also here were Malcolm Smith, Tish James, John Liu, Charles Barron, Ruben Diaz, and indicted State Senator Efrain Gonzales.