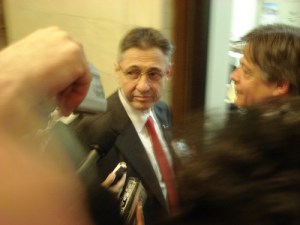 Sheldon Silver is giving money to the Stonewall Democratic Club for the first time. In the past, the 32-year-incumbent and Orthodox Jew has not conspicuously supported the causes embraced by many gay activists in his district–or at least he didn't before bringing gay marriage legislation to a vote in the Assembly last June.
Silver paid $500 for a ticket to the May 15 annual fund-raiser for Stonewall, which is based in his district and considered one of the major Democratic clubs for the gay community. He is also expected to attend.
According to a search of campaign finance records, Silver has never given a contribution to the group before. Nor has he given to Lambda Independent Democrats. (I'm waiting for a spokesman for Silver to get back to me to confirm.)
The May 15 fund-raiser is the first major event the group has hosted since the Assembly passed the same-sex marriage bill last year. It's also in the run-up to the September primaries, which Silver is taking more seriously than usual as he faces two spirited challengers.
Asked about Silver's contribution and expected attendance, club president Matthew Carlin emailed, "We are very pleased that the Speaker of the Assembly is supporting the Stonewall Democratic Club of New York City; his bringing to the floor and personally voting for the same-sex marriage bill was much appreciated by our club and our community and we are very happy to have his support."
When asked if the group was billing this as the first gay event Silver is attending, Carlin wrote, "billing? no, but it's true as far as anyone in the club knows."
According to a memo posted on the Stonewall web site, the event will be one of "our legendary cocktail party receptions, with top-shelf open bar, lots of food and a very few speeches."