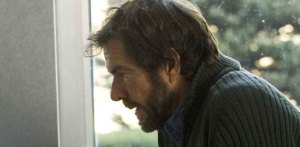 SMART PEOPLE
Running Time 95 minutes
Written by Mark Jude Poirier
Directed by Noam Murro
Starring Dennis Quaid, Sarah Jessica Parker, Thomas Haden Church
Accidents happen. So I have decided the lukewarm reception a fine, witty and intelligent new film called Smart People has been getting is just an accident of bad timing and critical exhaustion. We waste so much time evaluating stinkers that sometimes we overlook the real deals when they come along. Smart People is the real deal. It's the best movie about academics dancing on the lip of an ivy-covered volcano since Wonder Boys.
In a challenging change of pace that pays off handsomely, Dennis Quaid eschews his ripped and toned torso for wrinkles, circles, crow's-feet and a 38-inch waistline to play a scruffy, bored and grumpily disillusioned professor of literature at Carnegie Mellon whose students are mundane and whose book has been rejected by every publisher. Don't be fooled by the puffy little paunch, the shuffle in his walk and a beard that simply has to smell like stale nicotine; they just make him look like a real person for a change. He's got a backache in Smart People, and there's some indication of a possible knee replacement in his future, but the man is ageless. Also, enormously versatile and talented. As Professor Lawrence Wetherhold, he is up to his dewlaps in mediocrity and desperate for inspiration. He could be a movie critic.
He is also surrounded by an empyrean cast, buoyed by a savvy, pliant director (Noam Murro) and a brilliant screenplay (by Mark Jude Poirier) so skillful in its small details of character analysis that it makes even the most irritating eccentric seem interesting enough to want to know better. The movie is less about action than life. When first we meet the lonely, widowed Professor Wetherhold, he is having student problems, family problems, tenure problems and curriculum problems. The faculty hates him, and his two children regard him as a painful appendage they are forced to endure, like a bone spur. Jumping the barbed wire fence at the campus parking impoundment lot where his car has been towed, he suffers a concussion and wakes up in the hospital, ranting at the ER doctor (Sarah Jessica Parker), a former pupil he dismissed with a C, who regards him as a pompous windbag. His children are oblivious to his predicament: collegiate son James (Ashton Holmes) is an art history major running up bills on Dad's credit card; sassy daughter Vanessa (Ellen Page) is a rabid Republican so pragmatic she donates all of her dead mother's clothes to charity for a tax rebate. The professor's license has been revoked, so his smelly, unreliable, bankrupt adopted brother Chuck (Thomas Haden Church) moves in to play chauffeur but spends most of his time munching cereal, sleeping in the buff, flirting semi-incestuously with the precocious Vanessa and leaving the professor stranded all over town without wheels. With such a surfeit of trauma, Wetherhold's flagging interest in teaching the Victorian novel is understandable. Clearly, he needs to get laid; Ms. Parker fills the gap and drives him around at the same time. He softens. This is a forward advance toward humanity for a man so out of touch with niceness that he considers the supreme act of compassion changing a student's essay grade from a C to a B-. In time, everyone matures, but not with easy, formulaic Hollywood resolve. The characters are dysfunctional (the dinner table ordeals are Norman Rockwell meets the House of Dracula, and Vanessa's Thanksgiving feast is an invitation to a peptic ulcer) but everyone copes, with a breezy mix of sarcasm and surrender. These people are normal and real, which in today's cinema means fresh and fascinating.
No wrinkles are ironed out permanently, but in the end everyone finds enough spiritual Botox to get them through more than the next semester. The professor sells his book to a commercially crass New York publisher after renaming it You Can't Read, the oversexed uncle finds a girlfriend, the son sells a poem, the daughter heads for college to find new recruits to political conservativism and Sarah Jessica Parker does wonders for the professor's limp id by presenting him with a brand new baby. The actors are uniformly terrific in their collaborative confusion, and director Murro orchestrates them with the precision of a finely tuned string ensemble. After Juno, the delectable Ms. Page seemed doomed to play cynical androids, but in Smart People she is simply an adorable teen drama queen looking for love and discovering the best place to start is at home. Ms. Parker is fine, as always, but I pray that she soon removes the wart on her face that is fast becoming a grim distraction in her close-ups. Mr. Church is as outrageous as he was in Sideways, but he salves over the shocks with restraint even when he's mooning the camera in droopy BVD's with the flaps open. As for Mr. Quaid, it is hard to describe how charming he can be as a once-promising intellectual facing extinction, and as a bumbling, cranky narcissist who can't find his heart. This is a new Dennis Quaid in his best role since Far From Heaven. He is fearless, and he left me cheering.
So much good work must not go overlooked. I just loved this movie because it's witty, intellectual without being pretentious, and filled with characters who are logically stressed and anxious to connect to a world outside of themselves. Here are people who are quirky, contradictory and full of surprises, people in a daunting world searching for an epiphany. They're smart people. They'll figure it out. And I predict you will love them while they do.