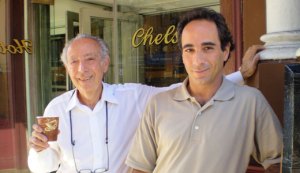 Legendary hotelier Stanley Bard doesn't hang out in the lobby of his beloved Chelsea Hotel as often as he used to.
But, two weeks ago, the hotel's infamously ousted manager made a rare appearance, joining the director Milos Forman (himself a former hotel resident) for an on-camera interview smack-dab in the middle of the lobby.
"The new management comes running out of the back and is like, 'You can't shoot that here!'" said the writer Ed Hamilton, a 13-year resident of the iconic lodge on West 23rd Street. "He tried to charge Stanley $600 to film in the lobby. Of course, Stanley wouldn't pay that."
Mr. Hamilton relayed the recent lobby incident during a panel discussion about the historic and embattled hotel last night at the Museum of the City of New York.
Mr. Hamilton, author of Legends of the Chelsea Hotel: Living With the Artists and Outlaws of New York's Rebel Mecca, interviewed Mr. Bard himself recently for a short video by fellow hotel resident and filmmaker Sam Bassett.
In the interview, played during the panel discussion, Mr. Bard took a few jabs at the hotel's controversial new managers.
"There are a lot of things, naturally, that I'm not very happy with," he said, citing specifically the recent evictions of some longtime hotel residents. "I don't like putting nice people out. I don't like putting people that love the hotel out—I'm not happy with them even trying to do that. I could understand that they want to enhance the value or the so-called value. But my philosophy is you can enhance value by a lot of things, not just monetarily. …
"We're not always going to be in this bubble. We're not always going to be in this economic boom, hotel-wise, etc. And when you satisfy people and make them happy in your hotel then they will want to return. …
"Under my management, we had the highest repeat business of probably any hotel in the world. I think that enhances value more so than just the bottom line. So my philosophy is a little different than theirs."
Asked whether he hopes to someday return as manager, Mr. Bard replied, "I'm not getting any younger, but my son is," referring to David Bard, his heir apparent. "I think that over the years he's learned to appreciate more this hotel than he did as a young person. He may have felt I forced him into it. … That wasn't my intent. I wanted him to respect the hotel and appreciate it. I felt that someday he would want to be here on his own.
"Unfortunately, I think that has happened. And they don't want him here. They want outside management, which blows my mind. I don't understand why. This outside management has no idea about the Chelsea Hotel or what the Chelsea Hotel is about. David, you understand, has every knowledge of the hotel—every inch of knowledge of the hotel. And that is exactly what is necessary in this hotel. He would be the best person for that job—not an outside manager that is here once a week or twice a week for a few hours. …"
Since his highly publicized ouster last summer, Mr. Bard has been "writing … thinking … reminiscing," basically working on his long-awaited memoirs after nearly 50 years as the hotel's manager, he said.
"Keep loving the hotel, keep spreading its good name," he urged the hotel's remaining residents. "Keep creating."
Also during last night's panel discussion, the writer Mr. Hamilton discussed Mr. Bard's "congenial inability to admit that anything bad has ever taken place in the hotel"—reading aloud perhaps this reporter's favorite passage from Legends, a tale in which Mr. Bard gracefully glosses over the apparent drug overdose of a longtime resident; instead, suggesting that the deceased was merely traveling in Europe.
Sherill Tippins, author of the forthcoming Dream Palace: The Extraordinary Life of the Chelsea Hotel, discussed hotel architect Philip Huber's original utopian vision for the building, Manhattan's first co-op, constructed during a particularly greedy era in the city's history.
Former Chelsea Now editor Lawrence Lerner, meanwhile, discussed how the changes at the Chelsea mirrored a larger trend of developers converting former artist flophouses, also including the Gramercy Park Hotel and the Hotel Breslin, into hip boutique hotels.