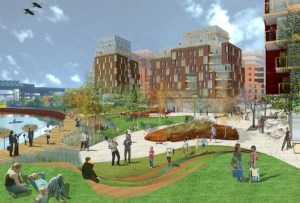 A team led by the Hudson Companies will give rise to a mixed-income village along the banks of the once-toxic Gowanus Canal, the city's Department of Housing Preservation and Development announced today. The Gowanus "Public Place" will have 774 units of housing (541 below market rate) among a complex of buildings, and comes as the city eyes a transformation for the once (and still, to some extent) industrial area.
The winning team, which also includes the Bluestone Organization, the Fifth Avenue Committee and Jonathan Rose Companies, beat out Stephen Ross, the Miami Dolphins-owning, constantly building CEO of The Related Companies.
Mr. Ross, who built the Time Warner Center, has had a big string of defeats in the competitions on publicly-owned land. Related's Pier 40 proposal has been all but tossed out, the company lost its bid for the West Side rail yards after News Corp. pulled out as an anchor tenant, and now this.
Toll Brothers has its own residential project lining the Canal, as does Whole Foods, which is trying to put a supermarket on a brownfield.
[This article has been updated with a changed number of affordable units, due to an error in the original HPD press release].
Press release below.
CITY ANNOUNCES SELECTION OF DEVELOPER FOR NEW MIXED-USE DEVELOPMENT AT PUBLIC PLACE, ON GOWANUS CANAL
Residential and Commercial Development to Include Over 600 Units of Affordable Housing and Public Space Along the Canal
New York City Department of Housing Preservation and Development Commissioner Shaun Donovan announced the selection today of the team chosen to design and construct a mixed-use development consisting of community, commercial, and residential spaces located along the Gowanus Canal in Brooklyn. The development team, the Gowanus Green Partnership, is a consortium comprised of the Hudson Companies, Inc., the Bluestone Organization, the Fifth Avenue Committee and Jonathan Rose Companies.
Marked by pioneering sustainable design in keeping with PlaNYC, Mayor Bloomberg's plan for a greener, greater New York, the development will result in 774 units of mixed-income housing. 541 apartments will be affordable to low- and middle-income families, including 120 units of low-income senior housing. The mixed-use development will feature over 25,000 square feet of cultural space, 38,000 square feet of ground-floor retail and nearly 100,000 square feet of public open space located along the canal. The canal-side park, in addition to landscaped waterfront space for passive and active recreation, will feature arts and educational programming and significant recreational opportunities for the surrounding community. The overall development is part of the Mayor's historic New Housing Marketplace Plan, a $7.5 billion commitment to create and preserve 165,000 units of affordable housing, over 70,000 of which have already been financed.
"I am very pleased to be able to announce the designation of a development team as strong as the Gowanus Green Partnership. Public Place has lain vacant for far too long and its cleanup and redevelopment will be a great benefit to this neighborhood," said HPD Commissioner Shaun Donovan. "Now, thanks to the Mayor's New Housing Marketplace Plan—a ten-year plan to create affordable housing for 500,000 New Yorkers—not only will this development provide new affordable housing, commercial space and dynamic new community resources such as the much anticipated boat house and daycare center, it will do so in a way that sets a precedent for future developments by integrating sustainable design features with an impressive level of affordability."
Located at the southeast corner of 5th and Smith Streets and bounded to the east by the Gowanus Canal, the development is part of Mayor Bloomberg's efforts to integrate the Gowanus Canal corridor with the vibrant surrounding communities of Carroll Gardens and Park Slope. The development will serve not only to redevelop long underutilized land into spaces for residents, local business and community groups alike to call home but will also serve to clean up a brown field that has long been a blight on the surrounding neighborhood. The reclamation of brownfields is a major component of PlaNYC, acting to both "create" new land for needed development and improve the environmental quality of the surrounding neighborhoods and the City as a whole.
The selection of Gowanus Green as the development group for the Public Place site is the culmination of a lengthy community process in which community residents, community-based organization leaders, elected officials and staff from HPD and other city agencies worked together to determine what kind of development would best serve the surrounding communities as well as the City as a whole.
"After years of discussions and many failed attempts, we as a community can applaud the results of everyone involved in the effort to create a mixed-use development with an emphasis on both senior and affordable housing, housing the Carroll Gardens community desperately needs," said Assemblywoman Joan Millman.
"This is the first step in creating an immense amount of affordable housing for the community, especially for our seniors," said Councilmember Bill de Blasio. "I applaud HPD for working with the task force and the community to pick the best possible proposal. Now that the developer has been selected, we need to continue our dialogue with them and with the community. Throughout the ULURP process I will be following several principles of development when evaluating this project. I will look at the amount of affordable housing, the developer's level of engagement with the community, their ability to be transparent throughout the process, and their commitment to using responsible contractors. Elected officials and government agencies must also work together to evaluate what impact the project will have on the sewer system, public transportation, our publ
ic school system and other vital services."
Totaling approximately 675,000 square feet, the residential component of the development will consist of 120 units of low-income senior housing and 654 units of mixed-income housing. Of the 654 units of mixed-income housing, 421 will be affordable to families making between 30% and 130% of HUD's Income Limits—between $23,000 and $99,840 for a family of four or $16,100 and $87,295 for a single person. 380 of the units will be rental, while the remaining 394 will be homeownership.
The project is expected to be financed in part through The New York City Housing Development Corporation's Low-Income Affordable Marketplace Program in addition to subsidies from the New York City Housing Trust Fund, part of the Mayor's $7.5 billion, 165,000-unit New Housing Marketplace Plan, the largest municipal affordable housing initiative in the nation's history. Construction on the project is anticipated to begin in spring 2010 and be completed in spring 2014.
Marc Jahr, President of the New York City Housing Development Corporation, said, "HDC is enormously pleased to participate in this 'green' public-private partnership. By reclaiming a brownfield for residential use, the Public Place development will serve as a catalyst for the dramatic transformation of the section of the Gowanus Canal and the creation of a new mixed income community."
The development team was selected as a result of a Request for Proposals (RFP) issued by the City in July 2007. Of the six proposals submitted, Gowanus Green's provided the greatest level of affordability, as well as the greatest balance between space dedicated to housing versus that dedicated to open and cultural uses. In addition, architectural partner Rogers Marvel's focus on sustainable design is sure to qualify many of the development's buildings for LEED Gold designation while the work of landscape architects West 8 and Starr Whitehouse will help the overall development to qualify for the pioneering LEED Neighborhood Development program.
Alan Bell, senior partner of the Hudson Companies, said on behalf of the Gowanus Green Partnership, "Our team is excited to bring its diverse talents to bear on Public Place. We look forward to working with the Gowanus and Carroll Gardens communities to realize a shared vision for affordable housing, open space, community facilities, and retail on this site. We believe Gowanus Green will be a transformative development—helping to heal the Gowanus Canal through environmental remediation while providing outstanding design and an array of public amenities to its residents and the neighborhood."
The New York City Department of Housing Preservation and Development's (HPD) mission is to promote quality housing and viable neighborhoods for New Yorkers. The department is the nation's largest municipal housing development agency and is implementing Mayor Bloomberg's New Housing Marketplace Plan to build and preserve 165,000 units of affordable housing over ten years. The New Housing Marketplace Plan is the largest municipal affordable housing effort in the nation's history. As part of Mayor Bloomberg's PlaNYC HPD is working to create homes for almost a million more New Yorkers by 2030 while making housing more affordable and sustainable. HPD also encourages the preservation of affordable housing through education, outreach, loan programs and enforcement of housing quality standards.