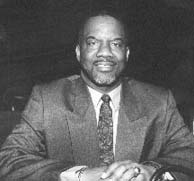 I spoke briefly with City Councilman Kendall Stewart as he was leaving his office at 250 Broadway just now.
Stewart said two of the aides that were named in an indictment today for allegedly siphoning off taxpayer money intended for a local community group are still employed with him.
"As of this morning they were," Stewart said when asked about his chief of staff Asquith Reid, and staffer Joycinth Anderson.
When asked about why he steered taxpayer money to the Donna Reid Fund, which shares the same address as his chief of staff, Stewart said, "We all give money to [groups]. DYCD [Department of Youth and Community Development] is the one that checks them out and does all that. I don't do that. If an organization comes and asks for information and funding, and I see they are doing work, you make the recommendation to give it to them."
He added, "I had nothing to do with how it was done. There are several groups we give money to. If that's one of the groups they investigate, fine. They do their job."
The indictment could be especially damaging for Stewart's political future: he was planning to challenge Democratic State Senator Kevin Parker, running on the notion that he could bring home more money than Parker could.