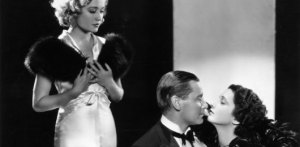 Sometime in the late 1960's, I asked Jean Renoir what he thought of Ernst Lubitsch. He raised his eyebrows and said, enthusiastically, "Lubitsch!? But he invented the modern Hollywood." By "modern Hollywood," Renoir meant American movies from about 1924 to the start of the '60s. Before Lubitsch's arrival to California from Germany in 1922 (to make a Mary Pickford vehicle called Rosita), Hollywood films were under the overwhelming influence of D. W. Griffith, circa 1908 through the epoch-making The Birth of a Nation in 1915 and beyond. Victorian, puritan, Southern, montage-driven, Griffith was the father of film narrative. As pioneer Allan Dwan told me, he would go to see Griffith's movies and just do whatever Griffith was doing. The majority of American directors felt similarly, including John Ford and Howard Hawks.
When Lubitsch arrived, however, things started to change. He brought European sophistication, candor in sexuality and an oblique style that made audiences complicit with the characters and situations. This light, insouciant, teasing manner became known far and wide as "the Lubitsch Touch." By the end of the 20's and throughout his short life—he died in 1947 at age 55—Lubitsch was probably the most famous film director internationally, except perhaps for C. B. DeMille. Today hardly anyone remembers either one of them. Yet while most of DeMille is pretty forgettable, if sometimes fun, Lubitsch is always fun and often as good as it gets.
Recently, a number of now fairly obscure Lubitsch films have been released on DVD, so maybe there's hope. If you want to see just exactly how dumbed-down our society and culture have become, take a look at Lubitsch's Trouble in Paradise (1932), out on the Criterion Collection. This airy, witty, blatantly amoral sex comedy about a couple of amorous jewel thieves was in its time a successful mainstream picture, hard as that may be to believe these days. But then in the 1930's, films were being made by adults for adults, even after the Production Code kicked in around 1934.
Trouble begins in Venice, and its brilliant screenwriter Samson Raphaelson (who did numerous films with Lubitsch) told me once that he and the director spent over a week trying to come up with a good opening to establish the location as Venice: "Ernst wasn't satisfied with just a shot of the canals or something," and he wouldn't go forward until they had solved the beginning. Finally, Lubitsch came up with it: Fade in on a shot of a back door to a building at night, a dog sniffing around a garbage can. A heavyset man enters the frame, picks up the can and carries it off as we PAN to see him dump the contents into a gondola filled with garbage on a darkened canal; he gets in his craft and, as he oars away, starts to sing, "O Solo Mio." That was the Lubitsch touch.
This was the same picturemaker for whom Garbo laughed in the irresistible Ninotchka (1939), and Jimmy Stewart lifted his trousers to show that he wasn't bowlegged at the conclusion of The Shop Around the Corner (1940), probably the warmest, most human romantic comedy ever made. Lubitsch was the fellow with the moxie to laugh at the Nazis right in the midst of World War II, typified by Jack Benny's infamous line from To Be or Not to Be (1942): "So they call me Concentration Camp Ehrhardt!" And he was the one to elicit Don Ameche's single great performance in that beautiful period comedy about an unremarkable man's love life, Heaven Can Wait (1943). All these acknowledged classics are currently available on DVD. (Also available is a rare Lubitsch flop, his last silent, Eternal Love (1929), a tragic love story with a brilliant performance by John Barrymore, and directed with all the economical precision and emotional depth of Lubitsch at his best.)
Although in the talking era he made virtually all comedies, Lubitsch had pioneered intimate costume dramas in the teens and 1920's: His first international successes were Madame DuBarry (1919) and Anna Boleyn (1920; originally titled Deception in the U.S.), both of which dealt with historical figures in a candid, mostly-warts fashion that American audiences were not accustomed to. Kino has just released DVD's of Anna Boleyn, with a devastating performance by Emil Jannings as the sexually rapacious Henry VIII, as well as another popular epic, Sumurun (1920; first U.S. title was One Arabian Night), in which Lubitsch himself has a sizable role opposite his star Pola Negri. (Orson Welles told me that when he first came to Hollywood, one trade term for a close-up was "big head of Pola," a phrase of Lubitsch's when he was directing Negri in America.) Of course, Lubitsch himself started out as an actor in silent comedy two-reelers, playing Jewish merchants with gusto and perfect timing.
Indeed, Lubitsch was well known in the business for giving his actors extremely precise instructions on how to play their roles. I once asked Jack Benny if it was true that Lubitsch acted out all the parts for his cast, and Jack confirmed it. Was he any good? I asked, and Jack answered, "Well, he was a little broad—but you got the idea!" This addresses the question of why all the actors in Lubitsch movies have such a very particular style, unlike the way they are in any other picture, be they as disparate as Gary Cooper, Don Ameche, Maurice Chevalier or Herbert Marshall. Signe Hasso, who played the French maid in Heaven Can Wait, told me that Lubitsch—who was short, heavyset, with a thick German accent and always sporting a cigar—had shown her exactly how to play the maid, and that he was just terrific at it, too.
The silent German comedies Kino has released—The Wildcat (1921), The Doll (1919), The Oyster Princess (1919), I Don't Want to Be a Man (1920)—are all fast-paced in a farce mode, often extremely funny, but not really typical of the understated Lubitsch comic touch that sprang full-grown with his second American film and first drawing-room/bedroom romantic comedy, The Marriage Circle (1924; released on DVD by Image Entertainment). With this film, an unqualified and undated masterpiece of infidelity and misunderstanding, Lubitsch became, as his biographer Scott Eyman put it (in Laughter in Paradise), "the composer of the cinema's finest, most elegant chamber music."