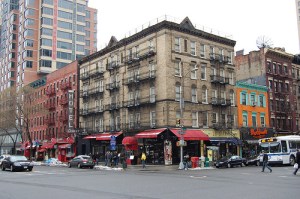 It's that time of year when thousands of recent college graduates descend upon Manhattan for their obligatory, pre-suburban stint in the city.
Manhattan's rental market is traditionally the tightest from May to August and early September—apartment-hunting season for newly christened young professionals.
After their hopes of living below 23rd Street in quasi-bohemian squalor are dashed by a broker, the Manhattan newbie has just a few neighborhoods to choose from.
The first place they look is Manhattan's unofficial frat district Murray Hill—er, "Murray Hell," that "mini-Manhattan theme park" full of "coddled post-collegians, armed with marketing jobs and U. Penn diplomas," which The Observer's Lizzy Ratner examined in a 2005 profile.
A decade ago, when the Real Estate Group COO Daniel Baum first noticed the trend, the neighborhood's main draw was affordability.
Yet, even steadily rising rents have not diminished prepsters' love for the East Side nabe.
The cost of a two-bedroom in Murray Hill has increased 6.9 percent in the last month alone to $3,856 in walk-up buildings and increased 3.7 percent to $5,172 in doorman buildings, according to figures provided by Mr. Baum.
"A lot of the times they ask to live there but realize they can't afford to do it alone so they find someone to live with," said Elizabeth Starkman, a broker at Bond New York.
A recent grad might come to her with an $1,800 budget, she said. Once they pool their money, a group of friends might rent a place for up to $6,000.
Though Ms. Starkman said the "share situation" is still very popular in Murray Hill, "price wise" it is slowly getting edged out by the Upper East Side.
Jonathan Iger, the CEO of UrbanGradRealty, a brokerage firm that specializes in relocating college grads to the city, said alums of different colleges gravitate toward neighborhoods where their peers live.
"Unless you're from New York, you don't really know the market," Mr. Iger said.
"A 2008 graduate will base the decision on where to live on their friends who graduated in 2007. They come to visit a friend who lives in Murray Hill, sleep on their couch and see other friends in the neighborhood."
Graduates of George Washington, Syracuse, Penn State and Boston University "always ask for Murray Hill," Mr. Iger said.
People from Northeastern preppy liberal-arts colleges like Colgate and Hamilton are "more willing to live on the Upper East Side."
Meanwhile Ivy League guys generally prefer midtown because that's where the financial sector jobs are.
"They are the only ones who ever request the financial district or Battery Park City though because three or four guys can live together down there in a four-bedroom apartment, and they're used to the frat-house lifestyle." Mr. Iger said.
An extremely unscientific survey of Murray Hill lon Thursday night bears out Mr. Iger's argument.
More than half of the 15 people we talked to milling about after work in Murray Hill Thursday went to one of the colleges Mr. Iger mentioned—three also went to Binghamton State. A Penn State alum outside of the Caliente Cab Co. Mexican restaurant said, "Oh my God, that is totally true, weird."
Jennifer, a George Washington alum at a Tasty Delite store, also said "that's completely true."
Adjina Dekidjiev, a rental broker at Manhattan Apartments, said that while many recent grads request Murray Hill, the market is so tight—especially downtown where the vacancy rate is 1 percent—that even those with relatively large budgets are forced to "expand their options" and look in Midtown West or Harlem.
"There are literally a handful of apartments available," she said.
"It's hard enough to find an apartment that fits two or more people. As we get further into the rental season the neighborhood really becomes secondary."