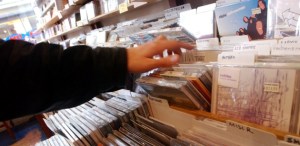 In honor of tomorrow's inaugural Record Store Day, a national promotion-cum-celebration of independent music outlets, The New York Times' Ben Sisario offers this sad lament: "Now added to the endangered species list in New York City, along with independent booksellers and shoe repair: the neighborhood record store." Along with Mr. Sisario's article, the Times helpfully ran a map of New York record stores, which can be used like a Birder's Guide to this dying breed.
But unlike Earth Day, that other awareness-raising holiday celebrated next week, which inspires publications to roll out obligatory tributes and calls-to-arms in honor of a once thriving, now dying icon (that would be the Earth, thank you very much), the Times is anything but a once-a-year designated mourner when it comes to record stores. In fact, for years, the decline of record stores has been a serious and growing concern for the paper, and something of a pet cause.
On April 10, 2008, Peter Applebome wrote an Our Towns column devoted to Princeton, New Jersey's Princeton Record Exchange, which he says "isn't the last of the hard-core independents, but it's definitely part of a dwindling breed." But Mr. Applebome's story isn't a sad one; it's meant to be inspirational:
[O]ver the years, the Princeton Record Exchange gained a following of local customers and obsessives from near and far — Gene, who plays for a symphony orchestra in Ohio and drives over every few months; Ralph, who owns about 20,000 classical vocal records and takes the train from New Haven once a month. The customers the other night were a varied lot: Chris Roff, a very serious 12-year-old who likes everything but country; Molly Levine and Jessica Hundley, 20-somethings who were friends from high school and looking for modern rock; Chris Gibson, a 43-year-old pharmaceutical salesman from Pittsburgh whose shopping cart was populated by Bill Evans, Warren Zevon and Steely Dan.
Helpfully, Mr. Applebome references the Nick Hornby novel (and subsequent John Cusack movie) High Fidelity, noting that the employees of Princeton Record Exchange "pride themselves, like the characters in Nick Hornby's novel 'High Fidelity,' on having way too much knowledge of useless musical trivia."
In an Op-Ed from April 5, 2007 by Tony Sachs and Sal Nunziato, onetime Upper West Side record store owners-turned-online music sellers, they write: "You'll still have a hard time finding vinyl 45s or their modern counterpart, CD singles, in record stores. For that matter, you'll have a tough time finding record stores." The music men look back at their brick-and-mortar venture circa 1993 and write, "At the time, we figured that as far as business ventures went, ours was relatively safe. People would always go to stores to buy music. Right? Of course, back then there were also only two ringtones to choose from — 'riiiiinnng' and 'ring-ring.'"
Don't even get Bobby Robinson started on the troubles of owning a record store in New York: He knows them all too well. On August 21, 2007, writer John Eligon checked in with Mr. Robinson and discovered (per the piece's headline) An Old Record Shop May Fall Victim to Harlem's Success. "With computerized music in full swing, Mr. Robinson's store, Bobby's Happy House, which he opened in 1946, is hardly about selling records, cassettes or CDs anymore," wrote Mr. Eligon. "It has become a landmark of Harlem's black heritage and a place that residents of the neighborhood can call home… But because Mr. Robinson's store is no longer lucrative, it may succumb to Harlem's growing corporate landscape. This summer, the building that houses Bobby's was sold to a development partnership of the Kimco Realty Corporation and the Sigfeld Group. Mr. Robinson was asked to leave by the end of last month."
The decline of record stores was also noted by Alex Williams in the 'Style' section back in July 16, 2006. Mr. Williams quoted a New York City record store owner, Norman Isaacs of Norman's Sound and Vision, as saying "I used to make more in a day than I probably make in a week now." At the time, Mr. Williams spelled out the sad state of an institution that went from temple of youth to, more or less, a convalescent home for aging Boomers:
The neighborhood record store was once a clubhouse for teenagers, a place to escape parents, burn allowances and absorb the latest trends in fashion as well as music. But these days it is fast becoming a temple of nostalgia for shoppers old enough to remember "Frampton Comes Alive!"
Mr. Williams also offers some cultural grounding to his report, noting in an aside, "Record geeks can claim only 'High Fidelity,' the book and movie, as a nostalgic touchstone."
As far back as 1993, the Times has been sounding the alarm and yet no one seemed to listen. "Computer technology has turned its hungry gaze on a pair of well-known institutions: the record store and the video shop," wrote Steve Lohr on May 12, 1993. This was a year before Amazon.com and CDNow.com were founded (and eight years before Apple's iTunes), yet Mr. Lohr already saw the beginning of the end: "In a few years, even a small-town record shop might offer all the titles of the biggest big-city megastore—not on hand, but summoned from the digital files of big computers thousands of miles away, traveling as electronic impulses to machines in the store that copy recordings or movies on blank CD's or videocassettes."
The only thing wrong was the part about the stores.