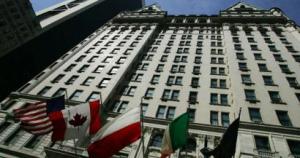 In an epic article today on why the super rich are still spending superbly, the Times wrote that buyers have "already closed on 71 Manhattan apartments that each cost more than $10 million, compared with 17 apartments in that price range during all of 2007."
That stat was already outdated by lunchtime.
According to city records, an 11th-floor apartment at The Plaza sold this month for $45,100,956, which makes it the second most expensive apartment ever to close in New York. It's behind only Harry Macklowe's massive spread four floors down at the newly renovated hotel, and slightly beats the even $45 million that scary hedge fund guru Dan Loeb just paid for his 15 Central Park West penthouse.
The buyers here are hidden behind an anonymous limited liability corporation, but a source said it's a New York finance man and his young family. He'll be in good company at the May 10 party for Plaza buyers, featuring caviar and Cognac, 12 women musicians "made up to look like statues and clothed in dresses" of roses and gardenias, and of course, a food spread "designed to visually replicate 17th-century Dutch paintings."