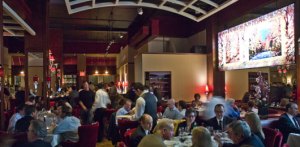 What would Frederic Edwin Church make of the landscapes that dominate Olana's main dining room?
In the late 1800s, the painter built the restaurant's namesake, a landmark mansion upstate with famously spectacular views overlooking the Hudson. Olana, the restaurant, sits on a less than spectacular stretch of lower Madison Avenue. The landscapes, on huge illuminated light boxes, are done in harsh computer-generated colors that cast a flat, eerie glow: Church on acid. But like many things in this restaurant, they have a quirky charm.
The artistic temperament extends to the kitchen: chef Al Di Meglio was a sometime artist himself before he turned to cooking. He has worked at Le Cirque 2000 with Sottha Khun, and was for three years the chef at the Maccioni family's Osteria del Circo.
Olana's dilemma is that it tries to be all things to all people and ends up with two personalities that do not always coexist comfortably. Its high, curved trellis ceiling suggest a country mansion; the burgundy leather banquettes and plush red mohair chairs with gold handles remind you that it is a fancy restaurant.
The latter impression is reinforced by tables set with white linen cloths and candles, and leather-bound menus offering four-, five- and six-course tastings. There are also crystal chandeliers, red boudoir lamps and background music of nonstop Mozart piano concerti that comes across as Muzak.
And yet, Olana can get pretty noisy, especially when groups of guys in open-necked shirts swill beer at the circular bar up front, and throngs of office workers from the neighborhood eat peanuts and knock back cocktails with names such as the Corpse Reviver.
In the back, though, a smaller and quieter wood-paneled dining room is lit like a dappled forest, and has a fireplace. (A screen in front of the kitchen door wouldn't hurt.)
Olana's menu is modern American, with French and Italian influences. There are some wonderful touches, beginning with the little rolls—raisin, onion, olive and sour dough—from the Lower East Side bakery owned by Iacopo Falai, who used to be a pastry chef at Le Cirque.
And what could be more redolent of spring than a luscious, thick sweet-pea soup the color of a mansion's front lawn, laced with bacon and baby pea shoots? Or a poached duck egg that melts into a bed of asparagus and mushrooms on a Parmesan cheese crisp? Mr. Di Meglio serves sea bass tartare in a generous mound with a lot of stuff—Champagne jelly, a crisp sliver of fried skin, pieces of red grapefruit, mint, sunflower shoots and mustard oil—but here it is an interesting amalgam of tastes and textures that works.
The flounder, on the other hand, was a clunker. Poached in Armagnac and blood orange, the fish had turned to mush on its bed of olive-oil-poached potatoes. And a brochette of seafood in a bland tomato sauce laced with large pearls of couscous needed a shot of hot red pepper.
Mr. Di Meglio's footing is surer on land. The pasta dishes in particular stand out, evidence of Mr. Di Meglio's time with the Maccionis. Mint tacconi, a flat noodle, was tossed with roasted peppers, a watercress eggplant purée and a fine house-made lamb sausage. Veal and ricotta cappellacci came with a pungent roasted tomato sauce that almost made up for their being overcooked. But the spaghettini was perfectly al dente, and topped with razor clams, chiles, tomatoes and pancetta.
The grilled pork, heaped up with hedgehog mushrooms, new potatoes, cider-glazed onions and apple sauce, was excellent. And while a friend pronounced his beef tenderloin perfectly good, "it could be in any hotel, in any continent, that has a fancy chef."
As he spoke he put down his knife and fork. As if on cue, a waiter stopped at the table. "Are you still working on that?"
"They should put two pictures on the back of every restaurant kitchen door," my friend said, returning to his beef after the waiter had left. "When a knife and fork are placed like this," he splayed them on the plate, "it means the customer is still working. When they are placed like this," he set them side by side, "it means the customer has finished work."
After you're done working on the main courses, pastry chef Katie Rosenhouse's desserts end the meal on a high note. They include a rich blueberry panna cotta paired with a Meyer lemon thyme sorbet, a feathery rhubarb strudel, and a delicate crème brûlée flavored with Meyer lemon. The crepes are outstanding, chocolate dough filled with oozing molten dark chocolate and served with raspberry sauce.
The bill arrives along with a tiny red cast-iron pot filled with hot chocolate sauce and a plate of chocolates, small cookies and marshmallows for dunking. I told you this place had charm. The service is friendly too. The wine list is a curiosity, with interesting choices from lesser-known vineyards, but quite expensive.
As for those light boxes on the wall, the host who came by our table one evening said he didn't know the name of the artist who created them. "The broker wouldn't tell us." What would Frederic Church say to that!
The broker, it seems, was going to replace them with a more spring-like selection in a few weeks. So with any luck, the lighting in the dining room will soon have the warmer tones of spring and summer, and we'll all feel and look the better for it.